It's been a pretty good run of nice weather, so we've been out riding the mountain bikes. Managed to get one more good ride in today before it starts raining again tonight, who knows how much it will rain? If there is significant rain, the trails turn to mud again and it's back on the road bike. We'll see how it goes.
Wanted to get a good ride in, so even thought I was a little worn out after the Eagle Caves ride yesterday and partially paralyzed from the pints of Double Mountain Hops Lava at Clock Tower Ales, I fixed up a flat rear tire and headed out. Down the road and up Old Dalles Road to the WhoopDee trail. Riding Old Dalles Road is great training and I don't have to fire up the truck to go anywhere. It is a bit of a climb though…
Once you get to the top, there is fun singletrack to be had. Especially fun today, because this was the official opening weekend for the new addition to the WhoopDee trail, courtesy of the trailbuilders at CAMBA. They did a great job, made a fun trail even better.
The new trail segment is a worthy improvement with great views of Mt. Adams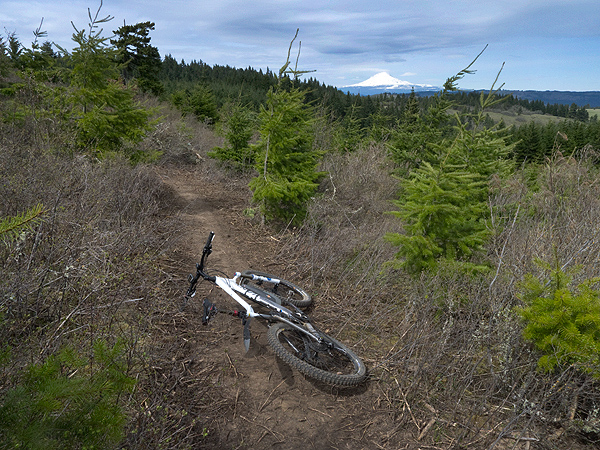 So thanks to the folks at CAMBA, job well done. You will make a lot of mountain bikers happy.