A typical spring day here in the Colombia River Gorge; sunny, raining and cloudy, sometimes all at once. If you wait for a sunny day to get out and do something around here, you won't be doing much. Too wet to take the mountain bike out on the muddy trails, so out on the wet Oregon roads with the road bike.
The day started off rainy following a night of light rain. Some of the roads were dry, some were wet. The sun came out from time to time and the blossoms on the fruit trees are starting to bloom; pretty wonderful to see.
Don't get carried away by a few minutes of sunshine. A few miles up the road and a half hour later, we were looking up at a stormy Mt. Fir. No sunshine up there, that's for sure.
Mt. Fir Road is a steep, narrow mountain road. There's probably still snow at the top, but we didn't make it that far. About halfway up the mountain, it started raining, enough to get us to turn around and head back down the hill.
Rim brakes don't work that well when they are wet and 700c tires don't give you a lot of traction on wet, twisty, 40MPH mountain roads, but it keeps you on your toes.
The Blossom Fest is coming up here in the Hood River Valley, if you are a bike rider, this is one of the best times of the year to check out the scenery. Looks like we are going to start having some nice, sunny weather starting this weekend, you should come on up and ride through the blossoms.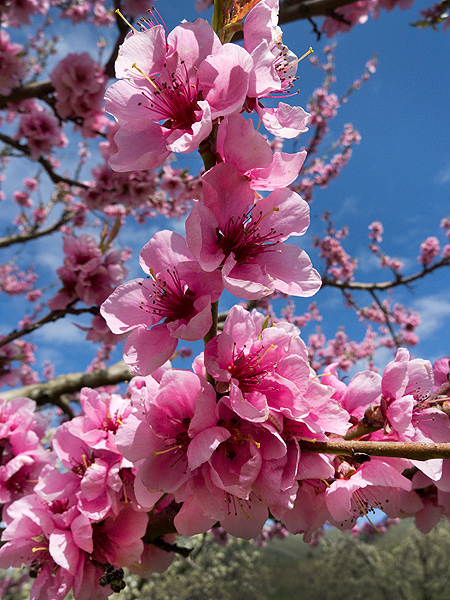 Don't wait around, these fruit trees bloom quickly, then it's over. Now is the time to get out there.