After a few days of on and off rain, some light sprinkles early this morning and then the sun came out. Still some clouds around, but the sky was mostly blue. Decided to take the mountain bike up the hill and check the trail conditions.
The fruit trees in the valley are just about at full bloom, with sunny days ahead, should be a spectacular weekend to get out and enjoy the scenery.
Across the valley of blooming fruit trees, the weather on Mt. Hood was looking a bit unsettled.
Across the valley, to the west, there were still a few storm cells managing to push over the Cascade foothills.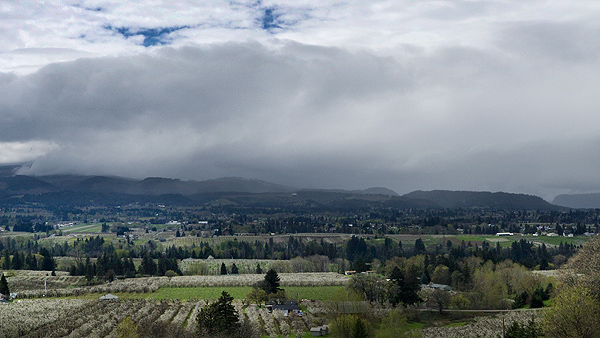 Rode up to the top of the hill and went for a ride on the local singletrack. It was a bit muddy in spots and there were a few puddles, but it should be in good shape for weekend riding.
Probably get out again tommorrow, maybe spend a little more time on the singletrack. Gotta take advantage of every nice day…