As I mentioned yesterday, after a long time away from the off road cycling, we spent a few days deep in the mountains of southwest Washington state getting back to the mountain bike basics. Just the bike, a cooler full of beer and food and enough water to last a few days in the more remote foothills of the Cascade Mountains. Nothing fancy, just a lot of singletrack and wide open forest service roads.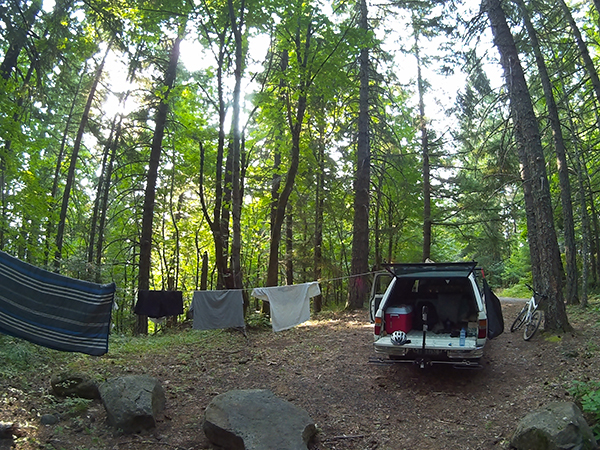 We got started as early as we could, usually about 7:30 AM to beat the record heat that would come later in the day. The midday temperatures were over 100°F every day and the air was full of smoke from western wildfires. We could ride until about 1:00 PM when it just got too hot. By then, we'd ridden more than five hours of challenging terrain in the Cascade Mountain foothills, so we could kick back and have a couple beers to get through the afternoon swelter.
Even with more than a month without rain, we were far enough off the beaten path so the singletrack trails were dry, but not too dusty and blown out. Didn't take long to get back to the reason we ride mountain bikes out in the woods.
The singletrack trails are all connected by Forest Service roads. The singletrack riding is the most fun, but the miles of riding on the Forest Service roads really help to build fitness. It's like riding a road bike, but only on dirt.
We couldn't get enough of the singletrack riding, especially after not having ridden for some time. Never can have too much singletrack if you're a mountain biker.
So, we are stoked again to go bike riding, especially since the fishing seems to be especially poor. Stay tuned, because there is another cycling adventure coming up shortly.