We are not getting a break from the wind here in the Columbia River Gorge. 15-20 mph wind with gusts over 30 mph pretty much every day. If you are a kiteboarder or sailboarder, these past few days have been fantastic. Warm days, relatively warm water and plenty of wind. Not so good for kayak fishing so we are spending much of our recreational time riding bikes. If the wind keeps up, we'll be in shape for the Tour de France.
Can't really complain, this is one of the best places for cycling, either on the mountain roads or the mountain trails. Riding on mountain roads is a great way to get in shape. An hour or two riding in the mountains is a pretty good workout.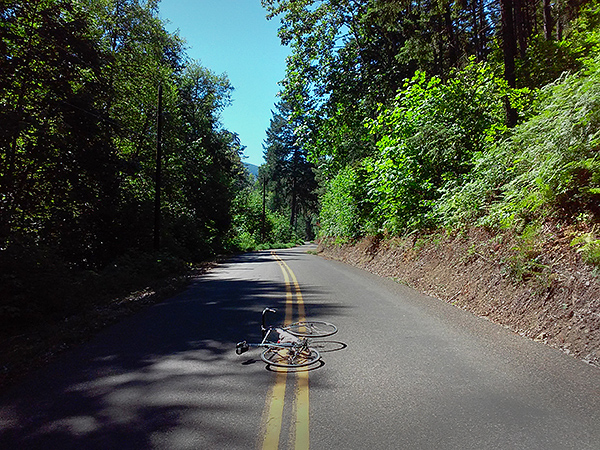 This past weekend was the July 4th holiday and with this area being a very popular summer destination, there were a lot of people from out of town in the area. That's not a good time to be out on the local roads on a bicycle so we headed up into the mountains to get as far away from the holiday crowd as we could.
The snow is still melting, but starting to run low so the seasonal streams are starting to dry up. The year round streams are at the point where they can be crossed somewhat safely. The stream in the photo below is usually knee to waist deep in the spring, but at this point in the summer you can ride across on your bike. If you are riding alone, it might be wise to take off your shoes and walk across. The rocks are slippery and this is a long way from town with no cell phone coverage.
Some of these trails are not on the map and don't have a name, but they can lead to some amazing places.
Looks like more windy days ahead so more bike riding and probably more stuff for the watermanatwork.com website.