The rainy and windy spring weather is finally starting to ease up and it's time for some early spring smallmouth bass kayak fishing on the Columbia River. The calm winds and temperatures in the mid sixties were welcome conditions for winter weather weary Pacific Northwest kayak fishermen.
The river water was a little warmer than expected, which helps the get the smallmouth bass moving. The Columbia River water level is very high and the river is running very strong due to the record winter snow melt and plentiful spring rain. The river water is full of sediment and silt, the water is a dark brown with low visibility. The low visibility is not the best for using artificial baits, but the trusty lead head grub was the lure of the day, catching all the fish.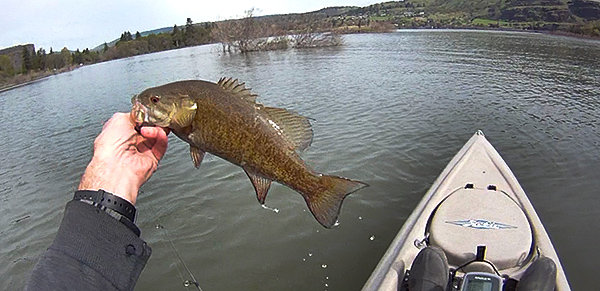 The high river water should give the smallmouth bass more potential spawning areas, many of which were dry land last year. The fish seem to be holding in the usual areas, as the water warms and clears up a bit, we could see fish move into the other areas that were not under water for the past couple years. As is always the case, no matter the size smallmouth bass, they always put up a great fight.
Rain showers and wind have reappeared today and probably tomorrow, but the first kayak fishing trip of 2017 was a resounding success. These early season smallmouth bass trips can be hit or miss because a lot of the fish are not moving out of their winter coma yet, but we got lucky this time out.
Stay tuned because the 2017 smallmouth bass fishing season is under way!