Well, the honeymoon for the new Eluktronics N850HK1 is over pretty quickly as we have discovered that it has major overheating problems. The first video we rendered using the new Eluktronics N850HK1 laptop put the CPU temperature almost to the thermal cutoff of 100°C. Further checking showed the CPU running about 60°C at idle. These temperatures are way over what would be considered normal and to continue running the computer like this could shorten the life of the CPU or damage the computer.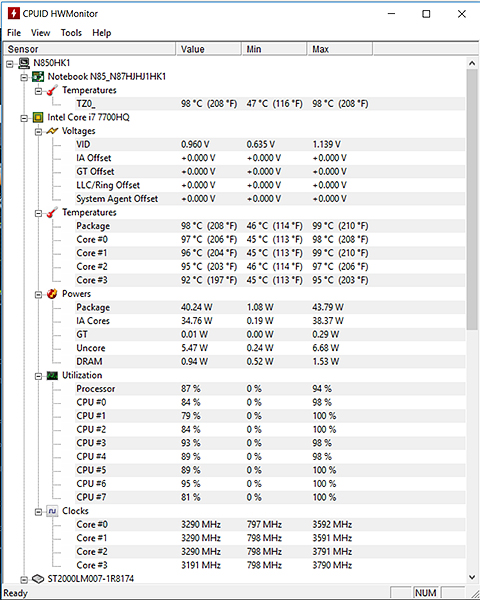 We've only used the computer about a half dozen times so having Eluktronics tell us to pack it up and send it back are not what we want to hear. We bought this computer because we have work to do, not to do quality control checking for Eluktronics. Eluktronics offered to pay to have it returned, but all our stuff is on the new computer and we are traveling, which makes returning the computer for who knows how long, not feasible. We got a lemon.
We are guessing the overheating is caused by poor thermal connections between the CPU and the CPU heatsink. Eluktronics offered to "upgrade" the thermal paste for an extra $35, so it's pretty safe to guess the quality control over this important manufacturing step done by Chinese workers is not very good. If we disassemble this new Eluktronics N850HK1 computer and do the job they should have done in the first place, it will most likely void the one year warranty. We took a chance on a small company like Eluktronics, who we had never previously heard of, and this is what we get.