How about some hot and smoky smallmouth bass fishing? After a couple long months away from the Columbia River Gorge, when we get back, the whole place is on fire! Temperatures over 100° for nearly a week and numerous wildfires have things baking hot and choked with smoke. It's making outdoor activities nearly impossible but we got for a little bit of smallmouth bass fishing on the Columbia River. We camped right next to the 75° river, but it only brought minimal relief from the 105° heat. It was dead calm with smoke from nearby wildfires sat like a giant fog bank over everything.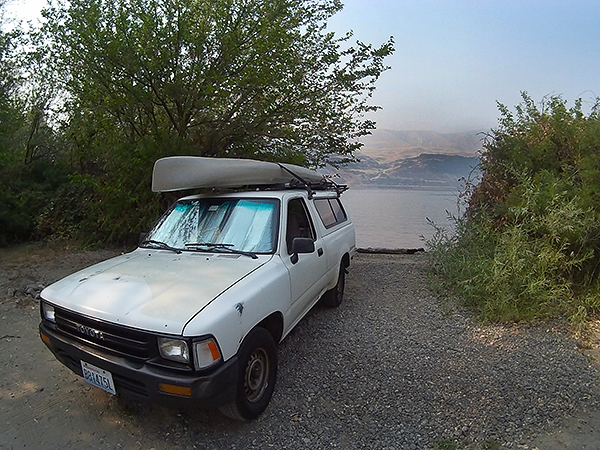 The smoke and heat didn't seem to bother this SUPer all that much. He paddled across the river and pulled up by where I was camped. His name was Alex and he stood around talking for awhile, had a few drinks of water and a couple cigarettes, jumped back on the board and paddled back across the river before it got dark.
The next morning, we launched before sunrise at Lepage Park boat ramp. We were in the water well before sunrise to beat the severe heat that was in store for the day. It was such a relief to be on the water with the water and air temperatures in the mid-seventies, just about perfect.
There were huge carp jumping all over the place, but the smallmouth bass fishing was pretty tough going. The warm river water and low summer water levels seems to have pushed the bass to the deeper water where they are harder to find. I think when the water is too warm, the smallmouth bass get sluggish and not as eager to bite. We had a number of short hits, which usually are smaller fish, and managed to scrape out a couple decent sized bass and a few smaller fish.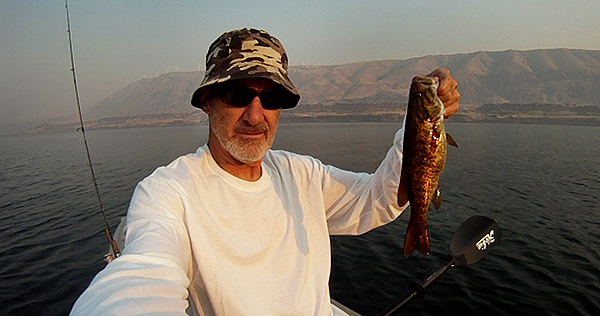 The fishing wasn't exactly on fire and the temperature closing in on 100° about noon, we called it a day. We hope to get a few more bass fishing days in, but with the weather like this, not sure if it will be worth it. With salmon/steelhead season looking to get started here in a few weeks, we are starting to worry the weather and warm water will have a negative effect on the salmon runs. Last year was not a banner year for salmon fishing so we don't need any extra problems. It's supposed to remain extremely hot for the next few days, so we'll see how it goes.