A couple of calm wind days appeared with a blistering heat wave that sent temperatures into the high 90's, but we take any calm days we can get, so off we go to eastern Washington kayak fishing for smallmouth bass on the Columbia River.
This is a spot of historical significance. It is a lot different than it was back then because of all the dams, but we are paddling our kayaks on the same river as Lewis & Clark.
With the normal west wind off the Pacific Ocean switched around to an easterly afternoon breeze, we were able to fish in a few different spots that are harder to get to with a west wind. Paddling a few miles into a stiff west wind is not something you want to do after a full day of kayak fishing. With the hot weather and possibility of afternoon wind, we were on the river and fishing in the cool, calm early morning well before sunrise. When the sky is red in the morning this time of year, it means it is going to be very hot.
By the time the sun peeked over the dry eastern Washington hills, we had paddled a couple miles and caught a few fish. The calm and light east wind allowed us to paddle further upriver.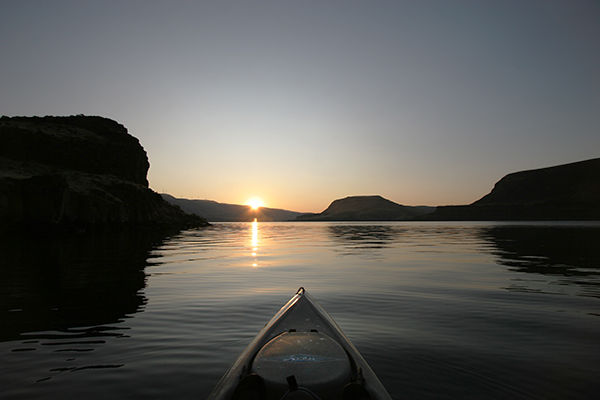 The kayak fishing conditions on the Columbia River in the early morning were just about perfect and the smallmouth bass were biting. About as good as it gets. The fish could be bigger, but we always say that.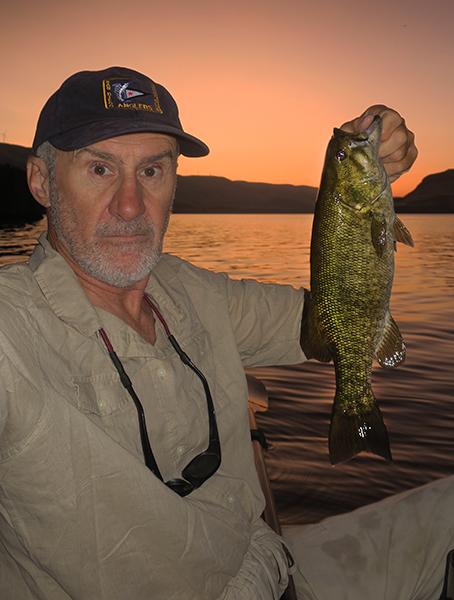 There was a lot of kayak fishing action. A few bigger fish, a bunch of one pounders and lots of small bass looking to get bigger by eating anything that moves.
The smallmouth bass were very active. They could be caught close to shore or in deeper water where they usually head in summer when the river water gets warm. There were spots you could get a strike on every cast. The bass were coughing up crayfish. If you had a lure that looked like one you were in business.
For two days the smallmouth bass fishing was great. Caught lots of fish and did a lot of paddling with the calm conditions. The river is starting to get slimed with green algae making it tough to fish, this may be as good as it gets this summer.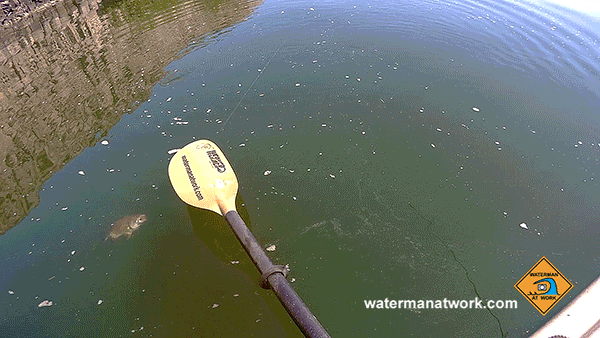 We wanted to fish another day or two, but there were a bunch of sketchy looking characters, most likely tweakers, in the parking lot. Vehicle break ins and theft, once rare at these remote boat launches and trailheads, is now a regular occurance, especially on weekends. This place is a long way from anywhere and there is sketchy phone coverage. Nobody is going to help you, you're on your own and you must make smart decisions. The conditions were excellent and the fish were biting, but the red lights were flashing so we packed up and headed home. That's the way things are in a rapidly changing area of the Pacific Northwest. Good news is there are plenty of other fishing spots and we are out looking for them.
The beginning of fall salmon fishing season is almost here. Usually, there is a lot of excitement and anticipation this time of year, but this time around, it's more like anxiety and apprehension. We'll see soon enough.