More and more places to fish and camp in the lower Colorado River basin are being closed or restricted. It's a pity, but more permits, passes and licenses mean more money and that's pretty much what it's all about. As places are closed or restricted, we move to try and find other places to launch and fish.
It is much more difficult to access our favorite largemouth bass sections of the lower Colorado River so we are on the move looking for other fishing spots.
We moved upstream a bit to find other places to fish. It's a longer drive to town for provisions and supplies and a longer drive to WiFi to upload material to the watermanatwork.com website and blog, so the blog posts may be more infrequent, but we may post more than one entry at a time.
This day, we were fishing at Squaw Lake. Part of the extensive lower Colorado River watershed, it has largemouth and smallmouth bass among the reeds and lakeside bushes and a short paddle from the launch to the main channel of the Colorado River. Unfortunately, there is a ten dollar fee for day use. You can camp there for a bit more but you can use all the facilities. There is a fourteen day limit to camping. The "campsite" is basically a parking lot, so if an RV camps next to you and puts a generator five feet from your camper, it won't be too pleasant of a stay.
The launch is great. Park next to the water and easy launch into Squaw Lake. On this day, it was very foggy, unusual for this desert environment, but calm wind, which seems to becoming a rare thing. This was our first time kayak fishing here and it's easy to get turned around in the maze of reeds and cattails so we were taking it easy as we paddled into the dense fog.
We tried fishing in the cattails and lakeside vegetation with our favorite largemouth bass lures that have been doing the job on other stretches of the Colorado River, but we didn't have any luck. We fished our way along the lake shore until we reached the Colorado River. This section of river has a steady, but not overwhelmingly strong current. We tried fishing plastics and were not having much luck. Largemouth bass hang out here in places you might not normally expect to find them, but with the clear, steadily moving river water, it looked more like smallmouth bass territory.
Having no luck with the dependable plastic grubs and worms, I started trolling a RattleTrap crank bait along the shoreline of the river as close to the bushes as I could. It didn't take long before I had a strong hit and the fight was on!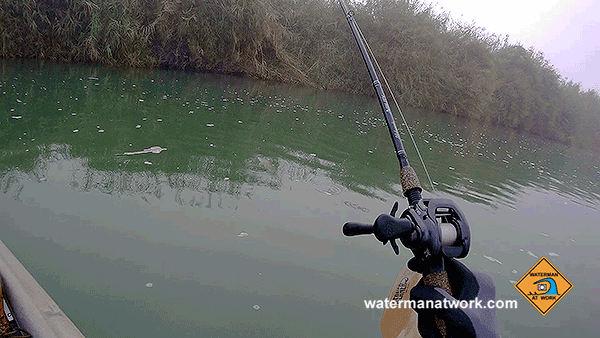 I could tell right away that it was not a largemouth bass by the way it was fighting. No big jumps and what seemed to be a much larger fish was a nice smallmouth bass.
The smallmouth bass in the Colorado River look a lot different than the smallmouth bass in our Columbia River home waters. The bass there are much darker, the smallmouth bass in the Colorado River are more a yellowish green while the PacNW smallies are almost all dark brown, sometimes almost black. No doubt this has to do with their diet. Although smallmouth bass will eat anything that goes by, their number one favorite food is crayfish. The rocky Columbia River has tons of crayfish, so that's what the bass eat most of the time. Here on the sandy Colorado, there are crayfish, but since sand and mud is not ideal crayfish habitat, the southern smallmouth bass probably eat more fish.
As we paddled upstream, the morning fog lifted and we got a good look at this section of the lower Colorado River.
We explored a few cool backwaters that probably were holding fish, but we need to figure out where the fish are and what they are biting. Paddling upstream, trolling the RattleTrap, I got another strong hit and landed another nice smallmouth bass.
It was early afternoon when we turned around and started heading back downstream towards Squaw Lake. I only caught two smallmouth bass, but this was our first time here and this time of year is not prime bass fishing season, so you must adjust your expectations. We'll be back on it again soon and looking for a few more fish.