We've been doing as much kayak fishing for smallmouth bass in Eastern Washington as the continuing windy conditions will allow. There is so much great smallmouth bass fishing here it's easy to see why the Columbia River is ranked as one of the best smallmouth bass fisheries in the country. It's been a bit on the warm side recently, but with calm wind conditions, the kayak fishing for smallmouth bass has been great.
The daytime temperature has been over 100°, so we've been getting out before sunrise to beat the heat. With the long summer days of the PacNW, it starts getting light about 4:30AM. We've had some great fishing before sunrise.
The smallmouth bass fishing has been about as good as it gets. With a few slow spots here and there, the bass fishing action has been non-stop.
Most of the fish have been in the one pound or less category. You can catch a hundred pounds of smallmouth bass in a single day but you'll need to catch about 80-90 fish to do it. Smallmouth bass are great fighters at any size.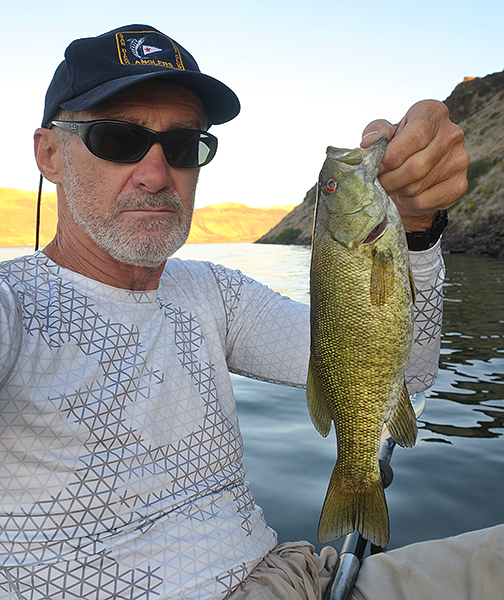 The smallmouth bass were really "on the chew". Fish were coughing up their last meals that couldn't have been but an hour or two earlier. The smallmouth bass in the photo below had a live crayfish in it's mouth and still hit my 4″ grub!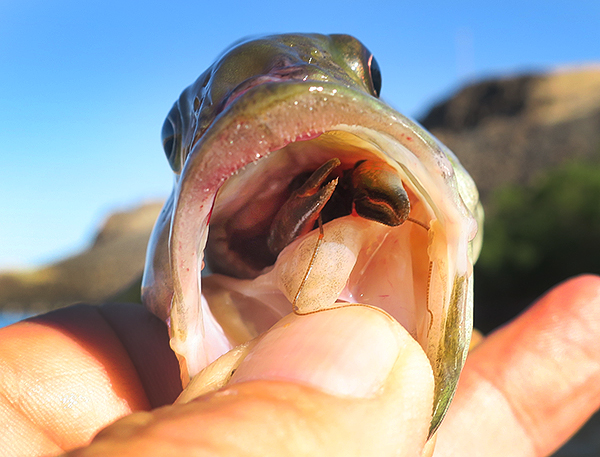 Most of the smallmouth bass were "one pounders", but I did manage to land a few nicer fish. This year seems pretty slow with the big smallmouth bass so any trophy fish is a happy time.
We'll be headed back out in a day or two looking for more kayak fishing spots in Eastern Washington. We posted a video on YouTube of good smallmouth bass fishing and we have more video coming up of even better fishing.
It was a slow start to the smallmouth bass fishing season, but it's going full steam now. The only question is how much fishing we'll be able to do before the river seaweeds choke off the fishing.