The seemingly endless wind of the Columbia River Gorge and surrounding vicinity finally eased up for a few days so we were back kayak fishing for smallmouth bass on the Columbia River as soon as the wind stopped. That happened early in the morning as we paddled out to see a sight we have not seen in weeks; a calm Columbia River.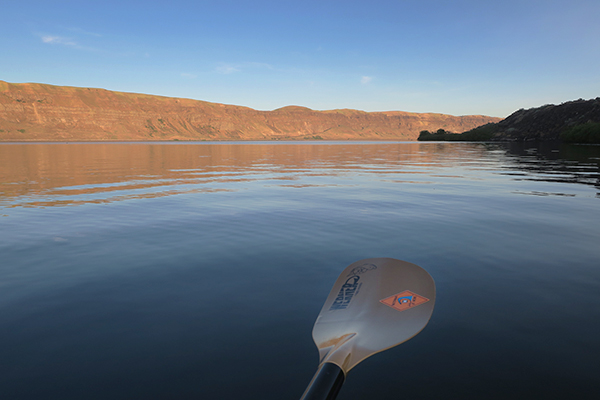 The first day of kayak fishing conditions was classic Pacific Northwest; 45° at sunrise, 85° at sunset. Bring all your outdoor clothing. There is still snow melt running into the Columbia, but it's warming up. Warmer water means more seaweed, we'll see how that goes this summer. Relatively few weeds to deal with. Rocks are always covered with algae or moss, so you must get close to the rocks, but not touch them. The fishing action was definitely better in the morning and tapered off in the afternoon.
The good news is that the smallmouth bass were biting and we caught a lot of fish. The not so good news is that most of the fish were small. A ton of bass between half a pound and a pound. Regardless of the size, smallmouth bass are aggressive and always put up a good fight.
We use 7'0″ spinning rods and lightweight reels, but use a bit heavier line because of the rocks and snags. Usually, 12-14lb. test mono. You don't need miles of line on the reel because you can move the kayak if you are in danger or getting spooled. 1/8 oz. lead head pumpkin seed grubs are working well because they look like the crayfish the smallmouth bass are feeding on. Whether the bass is five pounds or a half pound, the lightweight setup makes it fun.
I did catch a few bigger bass, which keeps you on your toes when you think all you are catching half pounders.
The smallmouth bass spawning is over and the river is full of baby smallmouth bass. Those mini bass will grow quickly and in a couple months be chunky smallmouth bass.
After a great few days of fishing and paddle-up camping, the wind has returned and shut down the kayak fishing on the Columbia River. Can't help but remember the fantastic conditions and great fishing until we can get out there again.
As soon as the wind calms down, we are back on the river. We found a new spot to launch and hoping there will be some fishing action there so check back soon.