We got a brief window in the wind so we hit the road for some kayak fishing for smallmouth bass on the Columbia River in eastern Washington. The Columbia River here in the Columbia River Gorge is inches below flood stage with more water coming downstream. We headed upriver a couple big Columbia River dams where the river is more of a lake. The water levels would be high there as well, but not as noticable as further west.
The wind was 5-8mph most of the time we were fishing, but we did get one cloudy day where the wind stayed calm all day. Always a welcome sight to see dead glass at sunrise.
The Columbia River has smallmouth bass just about everywhere and this stretch of the river in eastern Washington/Oregon is no exception. We caught a lot of smallmouth bass. Unfortunately, most of the fish were pretty small. No idea where the big ones were hiding. Maybe the high river water and relatively cool water temps have given the big bass a case of lockjaw.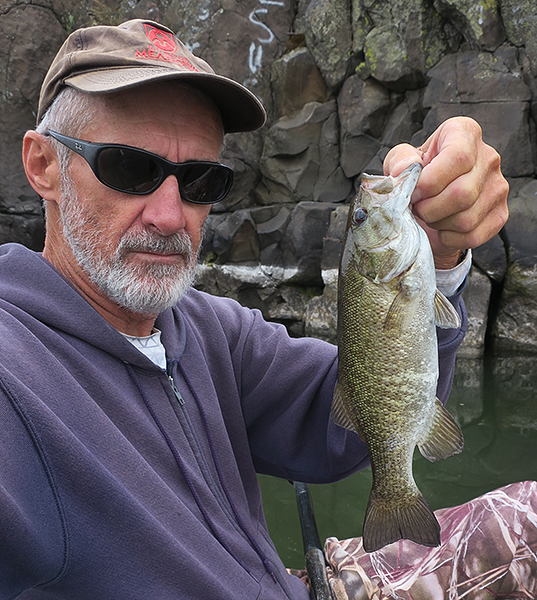 The Columbia River here is wide with lots of steep rock cliffs and broken rocks on the banks that are perfect habitat for smallmouth bass. It is also pretty windy much of the time so when you get a calm day, you have to milk it for all it's worth.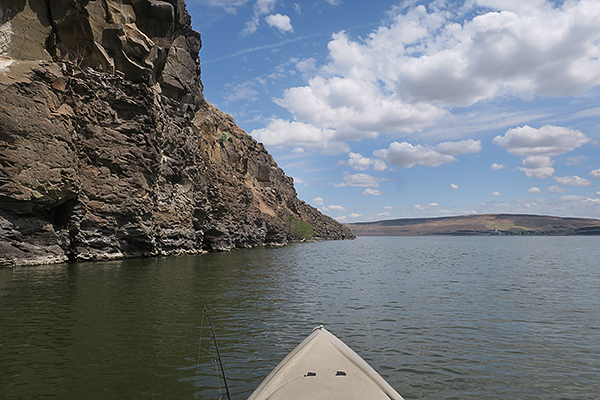 There's not much in this part of eastern Washington; vineyards, farms, ranches and a few small towns with no stores or gas stations. If you run out of supplies, you can get in your kayak and paddle across the river to Oregon, where there is a well stocked general store. When you go looking for adventure, you can find the whole package around here.
We like fishing on the eastern Columbia River and we know the big smallmouth bass are there, we'll get them sooner or later. Waiting for the wind to die down in the next couple days and we will be back out on the Columbia River kayak fishing for smallmouth bass. We already have another kayak fishing trip on the eastern Columbia coming up so check back for more kayak fishing action!