We've been dodging windy days to try and get in as much kayak fishing for largemouth bass here in southwest Arizona as we can. As we've learned by fishing on Mittry Lake, the fishing can be really terrible one day and fantastic the next. It's probably like that at most fishing spots, but on Mittry Lake, the conditions don't change all that much, so it's a real mystery why the largemouth bass simply stop biting for days at a time. Anyway, we have managed to do pretty well despite a few very windy days and a few days where it seemed like there were no fish in the lake.
During a stretch of windy days, we camped on one side of the lake that was somewhat protected from the wind. Not a real private campsite, but easy kayak launching onto a seldom fished part of the lake because boats can't get in. The solar panel is tied to the truck with extra rope because of the windy conditions. You meet a lot of people camping in this area, most of the time that's a good thing, but there some people we really didn't care to interact with. You meet a lot of travelers in this part of the country during the winter, most are nice, considerate people, but there are plenty of selfish assholes who ruin it for everyone else. That's just how it goes.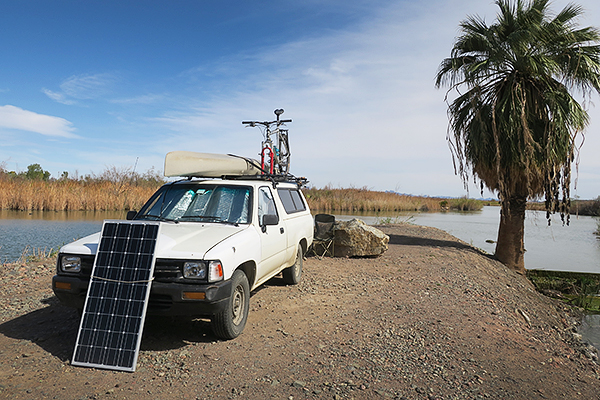 Most of the largemouth bass in this part of the lake are "one pounders" or smaller, but we did manage to catch a few bigger ones.
When the wind died down, we moved to a different campsite on the other end of the lake. This spot has access to more of the lake's better fishing spots. It is often crowded with RV squatters who live here, sometimes for a month or longer, until somebody comes by and kicks them out. We try to camp as far away from these people as we can. Most of the people we tend to interact with are local fishermen who seem to be the only other people at the boat launch before sunrise. These are our kind of people.
The wind may have died down, but as low pressure moves through the desert, it can be pretty cold on the tail end of weather fronts moving through the area. Most mornings were in the low forties or high thirties. That's a chilly start to the day, but when the sun comes up, it warms up pretty quickly.
The fishing has been very much "hot and cold", but putting time in on the water is the only way to get the nice fish.
We've got a ton of bass fishing lures, the one that seems to be working best is this simple black leadhead grub.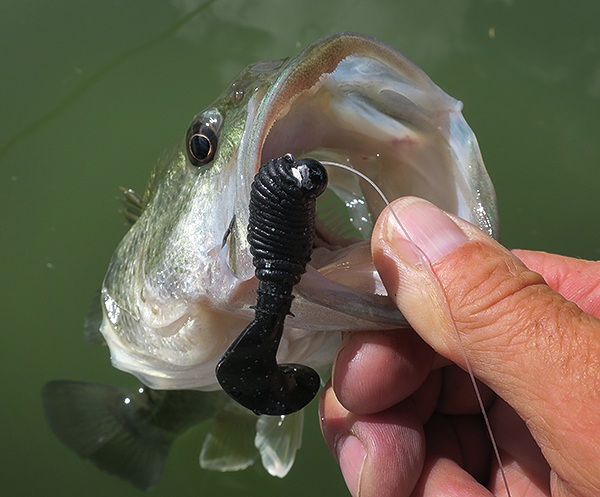 The past few days, the fishing has been really tough. There was a bass fishing tournament with about 20-25 boats, usually two anglers per boat, seven or eight of the boats caught no fish. The two boats that did the best caught five fish each. These guys are serious local bass fishermen, when that many of them get skunked, you know the fishing is not very good. On top of the poor fishing, or maybe because of it, the warming water temperature has caused an algae bloom. This slimy stuff sticks to everything. You have to clean it off your lure after nearly every cast. This is a pain in the butt and really cuts down on the fishing time.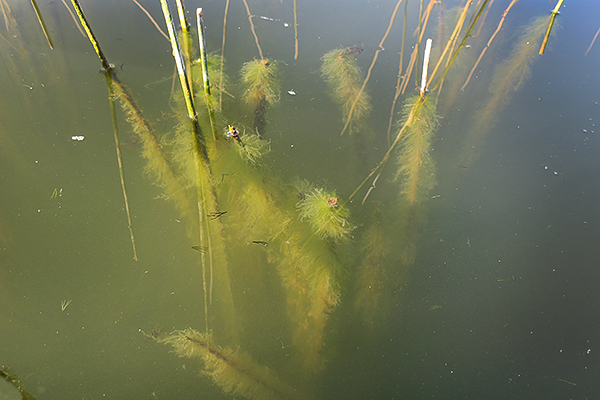 We've paddled miles trying to find the fish. None of the usual spots were working. There are a lot of largemouth bass that hide in the reeds that surround nearly all of Mittry Lake. Fishing in these reeds is not classic largemouth bass fishing, but that's where a lot of fish are. Many of the local fishermen slow troll around the lake using some kind of jig to try and entice the fish out of the reeds. This type of fishing is not well suited for paddle kayaks, so we have to paddle into the reeds and make short casts into open areas. The reeds are so thick in spots, you could probably get lost. There are all kinds of birds and other wildlife hiding out here.
After two days of tough fishing with hardly a nibble, we were ready to give up. Not wanting to quit after two days of not catching a single fish, I paddled deep into the reeds on the way back to the camp. After a couple short casts, I got a hookup and landed a small largemouth bass. Finally, things were going my way. A few more casts and I landed this nice largemouth bass. The "one last cast" routine pays off again.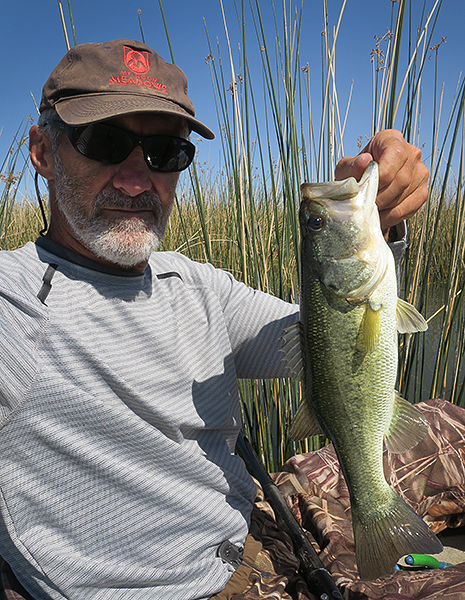 Despite the tough fishing at times, we are getting some good video and are working on a kayak fishing for largemouth bass video that we hope to have posted soon. Looks like a couple days of low wind so we are back out into the desert. Stay tuned for more kayak fishing adventures from watermanatwork.com.