We just had a great day of kayak fishing on the Colorado River for largemouth bass. We've been fishing mainly at Mittry Lake, but the fishing there has been pretty poor. The wildlife has been very active as spring approaches, the largemouth bass have not gotten the word.
The fish that were active at Mittry Lake were the carp. Must be peak mating season because there were carp thrashing around everywhere.
Now the wind has come up which makes the fishing much more challenging, if not impossible. There looked to be one calm day so we crossed our fingers and headed over to the Colorado River. It was almost dead calm for most of the morning, but as expected, the wind started to pick up.
The wind blew us off the river, but before it did, we had one of the best largemouth bass fishing days of the season. I caught at least fifteen bass, including a few nice ones and one really nice one.
I caught the first bass of the day about a half hour after launching. I had some new gear and re-spooled all the reels so I was checking all that out while looking for the fish. I fished here before and hadn't had much luck but got dialed in pretty quickly today.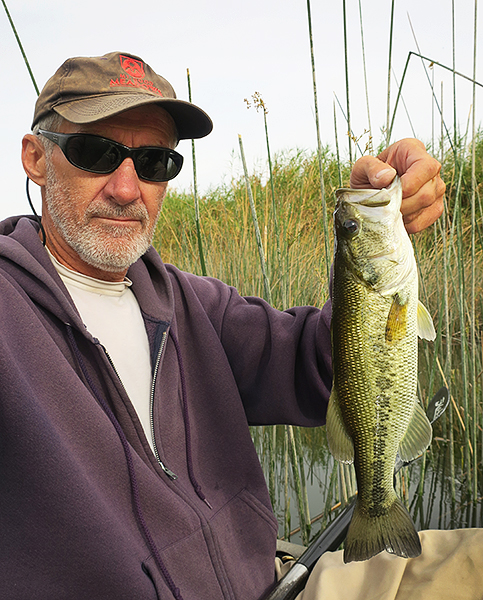 It was overcast and warm as the fishing started to heat up. Getting in tight to the reeds to find where the bass were hiding was paying off. I managed to catch a few nice fish. When I caught this bass, the day was already a major success after all of the slow fishing at Mittry Lake.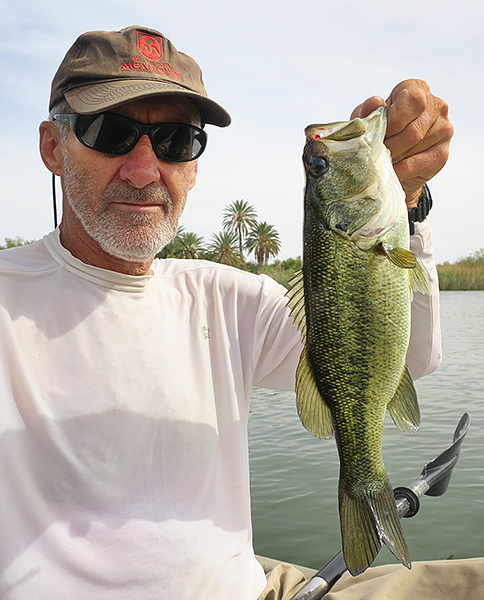 The wind remained calm and I kept catching "one pounders", had a number of hits that didn't stick and a few fish lost when they jumped and spit the hook. I had another bite that started out kind of slow and light, but it was apparent pretty quickly that this was not a small fish.
After a few jumps, a couple runs for the reeds and a few dives for the bottom, this big largemouth bass tried to head butt the kayak!
After a great fight, the bass was in the kayak. Biggest largemouth bass of the season for sure and most likely my personal best. A really nice Colorado River largemouth bass, released to fight again.
Just as the fishing begins to really pick up, so does the wind. We are looking at a few days of very windy conditions, then the summer desert heat starts to kick in. We will use the few windy days to dial in our extreme desert shade gear then we will be back out on the water looking for more big largemouth bass.