We finally got out for our first kayak fishing for salmon trip of the season. It was unlike any of the other first salmon fishing trips of the year because the Columbia River Gorge is filled with heavy smoke and ash from the nearby Eagle Creek wildfire. It's not exactly easy breathing and visibility was often less than a quarter mile, but we had to get out there and try for the first salmon of the season.
It didn't take long for me to get the first fish of the year. After only a few casts, about a half hour before sunrise, I hooked into the first Chinook salmon of the season. It was a smaller fish, probably ten pounds or less, so I released it. Little did I know it would be quite a few hours before I felt another serious tug on the line. The sun came up, but it didn't get too bright because of the thick smoke. There were a few fish being caught, but for this time in the annual salmon run, I would have to rate the fishing as "somewhat slow". The slow fishing, hot weather and smoke from wildfire made for a typical challenging day of fishing.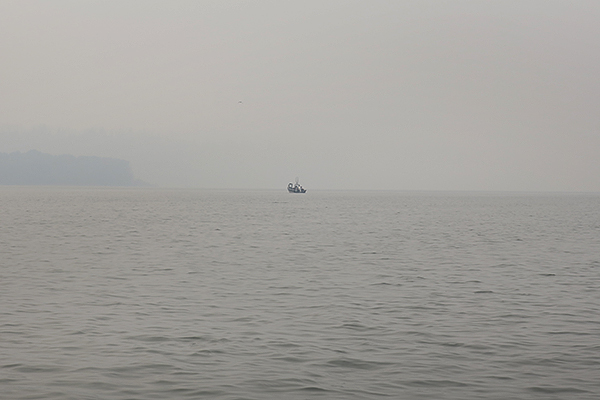 After going all day with only a few half-hearted hits and no solid strikes, I was pretty disappointed after catching a salmon in the first half hour on the water. Then, I got a solid hit and a good hookup. It was a good fish, but I could tell it was not a salmon or steelhead. Turns out it was a big smallmouth bass. At least I caught some kind of fish. I was about to call it a day when I got a hit that nearly ripped the fishing rod out of my tired hands.
This fish was a salmon; a big salmon. It went on a couple long runs, ripping line from the reel and giving the drag a real workout. Between the runs, the fish made two huge jumps out of the water. It was a real battle and I was not making any progress getting the fish to the boat. When I finally got the fish close to the kayak, I could see that it was a big Chinook salmon. It would never fit into my landing net, but it didn't matter. A closer look at the fish I could see that it was foul hooked in the dorsal fin, that's why I couldn't make much progress getting it to the kayak. I was wondering how to unhook and release a thirty pound salmon when the hook worked itself loose and the monster salmon swam away.
Quite a way to start the salmon fishing season!