Summer is getting closer, days are getting longer and warmer so the bike rides are getting longer and deeper into the Cascade Mountains. We've been out and about on trails that are way off the beaten path. Most of the trails are far from paved roads and some are not accessible by vehicles of any kind, maybe a motorcycle. You have to ride your bike to the trail because, after all, it is a bike ride. Since the trails are hidden away in the forests of the Cascade Mountains, you can pretty much count on a healthy dose of climbing, it is the mountains.
This is an amazing time of year in the Pacific Northwest, plants and trees grow at an amazing rate. Everything is bright green in the springtime sun. We had a wetter than normal winter so there is maximum plant growth. The snow is still melting but some of the seasonal creeks have already dried up and the water level of the Columbia River has already started to drop, so we'll see what this heavy spring growth will mean at the end of the summer when fire season starts.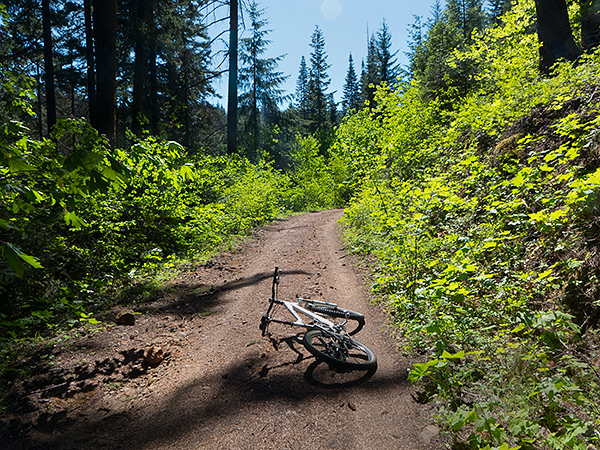 The further into the mountains you go, the more spectacular it gets. Around every corner is a new adventure.
Also as summer gets closer there are more and more people in the area so we avoid the more well known bike trails, which can get pretty crowded. While riding with a few friends is common around here, many of the weekend cyclists from the local big city think that if riding with a few others is good, riding with ten or twenty people is better. Every weekend there is a caravan of squeaky clean cars with equally clean bikes on them headed to the local trails. It's easy to find the trailheads by following the trail of empty coffee cups and fast food garbage on the side of the road. The trailheads themselves are marked with more trash, piles of dog shit, human feces and wads of toilet paper. We've taken a few people out on local trails, to thank us for this, they put the trail all over the internet, now the trails are full of weekend warriors. Mountain bike tour "companies" run shuttles and herd tours on nearly every area trail, including trails on private property where they don't have permission to do so. What this means is more closed trails in the future.
To avoid all this, we head into the forest. These trails are locals only. No internet, no Strava, no inviting your buddy from Portland. If you want to do that, there are plenty of other trails to ride. All we want do do is ride bikes, not be part of a club or association that feels it is their place to turn forest trails into bike paths. We're not saying people can't ride here, they just have to find the trails, just like we did.
Hopefully, there will always be another trail to find. As long as there might be, we will keep on looking and doing just enough trail work to keep the trail open. Nature has a way of doing most of this work for us. We found this old abandoned logging road on our last ride. My legs did not have any more climbing left in them so we had to leave exploring this road for another time.
The forest isn't the only place things are growing out of control; you can actually watch the grass/weeds in the yard growing so I have to get out there and do some yard work before I need a machete to get to the front door.