We had another go at salmon fishing at the local river mouth, but once again, the fishing was terrible. I did not get a single bite and only saw the bank fishermen catch a few fish, I did not see any fishermen in boats catch anything, and there were quite a few boats. Also, with a daily catch limit of one, once everyone in a boat has a fish, you have to go in and not that many boats were going in. The river water level is very low, not sure during the peak of the salmon run they would do that, but it seems to have affected the fishing. Many of the river mouth sandbars the salmon would swim over to head upstream are dry land.
With a significant storm coming in off the Pacific Ocean from the southwest, we headed east, away from the wind and rain of the approaching storm. The next morning, it was mild with a calm wind and scattered clouds. This was a big difference from the pack of salmon boats. Salmon fishing can be exciting, but it is not exactly relaxing.
The calm morning conditions allowed us to paddle across one of the wider parts of the Columbia River and have a look at some new fishing spots.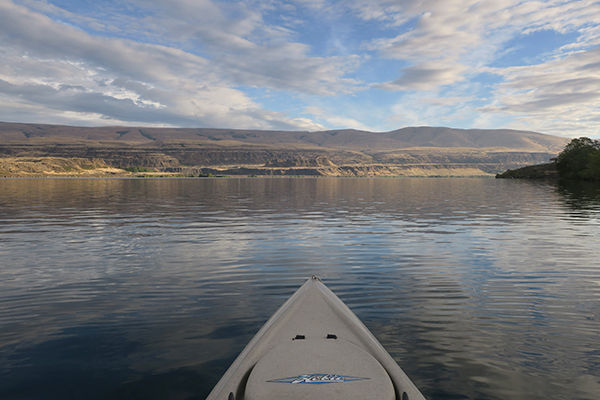 Like the salmon fishing, the smallmouth bass fishing seemed on the slow side as well. The Columbia River at this time of year is choked with weeds and the increasing common green algae that seems to thrive in every freshwater location in the western United States. That may have something to do with the fish behavior. We did manage to catch a few smallmouth bass.
We would have fished longer, but we knew there was foul weather approaching so we were keeping a watchful eye to the west. We were across a wide part of the river from the launch, when we felt the first hint of cool west wind, we started paddling back across the river. By the time we landed and loaded up the truck, the rain was beginning to fall and the wind was picking up.
We headed back west and the following morning, we were out fishing for salmon. There was a break in the storm cells so it was calm with light rain. Once again, I did not get a single bite and only saw a few fish caught, mostly by bank fishermen. Even though I have a bright white light on my kayak and was only a ten yards offshore, a few yahoos in a boat came blasting into the fleet of anchored boats and almost hit me. After a few hours of what has become the norm for salmon fishing here, with the rain steadily increasing, I called it a day. We hung out down by the river, hoping the conditions would improve, but by sunset, it was raining steadily and would continue through the next morning.
The next morning at 5AM, it was still raining. Most of our gear was somewhat dried out overnight, but everything was pretty damp. Thankfully it was not too cold. We carefully hauled our gear and kayaks down the muddy slope dotted with wet rocks. Despite the miserable weather and poor fishing, there were plenty of fishermen on the river. For the third attempt in a row, I did not get a single bite. I'm not claiming to be the world's greatest salmon fisherman and there have been plenty of bad fishing days, but I think this is the worst salmon fishing, perhaps, ever in recent history. After a few hours of soaking with no action, we headed in. I stowed my gear and sat in the back of my truck looking out at the rain and pack of fishing boats and wondered if I may have caught my last salmon here.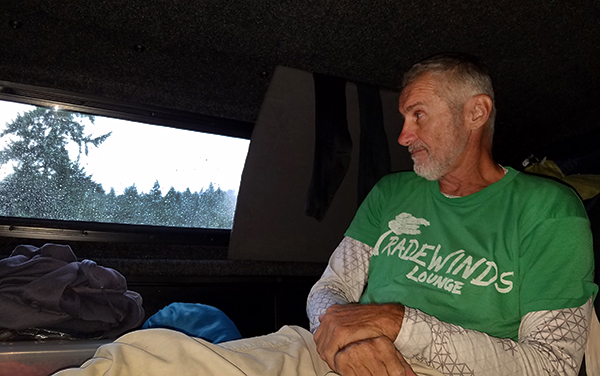 With nice PacNW fishing days coming to an end, we want to get as many days of fishing in as we can, no matter what we are fishing for. Even though we were discouraged and wet from days of fruitless salmon fishing, we'll keep trying until the fishing rod guides ice up, just like in the olden days of yore. We headed east again, and though the wind following the storm front was blowing too hard to go fishing, we were able to dry all of our stuff.
To add to the list of diminishing returns of the PacNW fisherman, and every other person who enjoys the outdoors here, is the increasing number of vehicle break-ins at boat launches and trail heads. The evidence of this kind of activity is nearly everywhere, especially at the more remote locations where you are on your own. When you see broken auto glass like this in an empty parking lot, you might think about continuing on your way.
Literally down to the last few weeks of decent fishing, we are on it every chance we get. It's been a somewhat disappointing fishing season this year, we're hoping it will end with a bang.