We had a stretch of nice days with moderate winds so we were out on the Columbia River on the kayaks doing a little smallmouth bass fishing. There was a slight delay in launching in the morning as we waited out one of the Columbia Gorge's infamous long trains. The tracks usually run along side the interstate so you don't often have to cross train tracks, but if you do and there is a train coming, you may be in for a long wait watching the flashing red lights.
The water level in the Columbia River is extremely high. It's as high as I've ever seen and don't think it goes much higher without calling it a flood. The upriver dam controls the amount of water in the river so unless there was some kind of huge natural disaster, there wouldn't be any serious flooding on this part of the river. The water is high and the current is super strong, keeping us off the main channel until it calms down a bit. The water is still off color as well and the smallmouth bass fishing remains challenging. We did manage to scrape out a few fish before the early afternoon wind ended the kayak fishing day.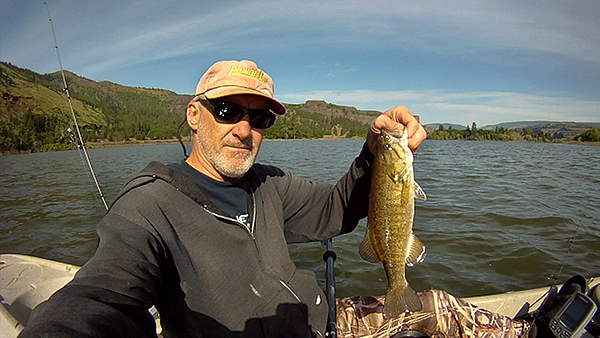 The size of the fish seems to be getting a little smaller so that may mean the bass are starting to move around more as they normally do when the water warms up. That's good news for the fishing, but now we are back to very windy days so it will be another day or two before we can get back out on the water. Perhaps the water level will drop a little and the water flow will start to settle down.