Time to start gearing up for the 2016 smallmouth bass fishing season. In the last post, we went over the licensing and permits necessary for fishing on the Columbia River, where we will be doing most of the fishing for smallmouth bass. In this post, we'll take a look at the fishing rods and reels we use for smallmouth bass fishing. We got all of our bass fishing tackle out and had a look to see what we need to do to get ready to fish.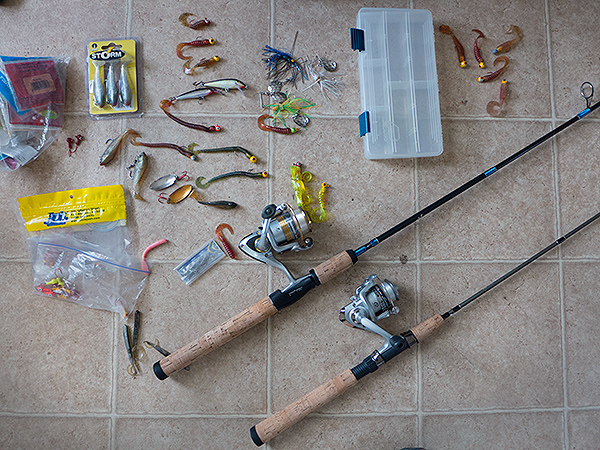 The smallmouth bass on the Columbia River where we usually fish run anywhere from a quarter pound to five or six pounds, maybe a little bigger. We consider any bass over 20″ to be a trophy sized fish. Depending on the fishing conditions, we hope to catch at least six to ten trophy bass, more if we get lucky. Usually, the bass are in the 12-16″ range. The Washington State Record is 8.75 lbs. and the Oregon State Record is 8 lb. 12 oz. The Oregon bass was taken out of Henry Hagg Lake and the Washington bass was taken out of the Columbia River. The biggest smallmouth I've ever caught has been about six pounds. Smallmouth bass are hard hitting, hard fighting fish, especially for their size. That's why they are so popular with recreational fishermen. We release all the smallmouth bass we catch, so somewhere out in the Columbia is a new state record waiting to be caught.
To go after the smallmouth bass, we use light spinning tackle most of the time. You do a lot of casting so it's easier with a spinning rod. I use two spinning rod setups. One is an ultralight 4-10 lb. rig with a Shakespeare 7′ Ultralight fishing pole and a Shakespeare MSSP20 MicroSpin reel. I bought it at WalMart for about $30 to replace a similar setup that a fish pulled in the water while I was messing around with my camera gear. The reel is spooled with 10 lb. test monofilament. In the photo below, it is on the top.
The second spinning setup is a 6-12 lb. rig with a Shakespeare EXS662M Medium action rod. It used to be 6'6″ but I broke it and repaired it so now it's more like 6′. This is about as heavy of a fishing rod as I would go for smallmouth bass, but I'm not going to go out and buy another rod right now. The reel is an Okuma Avenger AV30b. It's a nice looking reel, got it on sale for about $30 because my old Shakespeare I was using wore out after a few seasons. This setup will be good for even the biggest smallmouth bass. The Okuma Avenger reel is also spooled with 10lb. test line. In the photo above, it is the spinning setup in the middle.
Finally, we have a 6-10 lb. setup with a Shakespeare SC 60 2M 6′ Medium action fishing rod with a Daiwa Lexa 100HL casting reel. I use this rig with a sliding sinker bait setup to fish on the bottom using worms as bait. We'll have more details about this later, but this reel is spooled with 20 lb. test Power Pro braided Spectra line with a 20 lb. test monofilament leader. We have pretty good success with the time tested artificial lures we use, but sometimes nothing beats an old fashioned worm on a hook. After spring spawning, the big bass head for deeper water so this is a good way to go. We also catch a lot of sturgeon this way, maybe even a walleye; that's a little extra action. The sturgeon can get 10-15 lbs. or bigger, so this is a pretty good all purpose rig for bottom fishing on the Columbia. This setup is on the bottom in the photo above.
None of the rods or reels we use are very expensive because the lower price fishing gear works just as well as the more expensive stuff. You can spend more, lots more, on high end rods and reels, but they are not going to catch any more fish than the less expensive tackle. We've caught plenty of trophy bass with the gear we use and you can too.
That's it for today, next time we'll be having a look at our smallmouth bass approved selection of lures, so check back if you want to start catching those bass!