The kayak fishing for largemouth bass continues here in southwest Arizona near Yuma. We've been hanging around town waiting for some equipment to arrive and have been fishing at Mittry Lake, which is outside of town to the north along the Colorado River. When we first started fishing here, the fishing was not very good and we were having a hard time finding the fish. We moved to another spot on the lake and our luck has improved quite a bit. The new campsite was not quite as nice as the waterfront paddle up campsite we had before, but the lake is only about twenty yards away and there are way less mosquitoes.
Mittry Lake is an ideal kayak fishing spot. It doesn't get windy too often and most parts of the lake are somewhat sheltered from the wind by the tall lakeside reeds. This lake looks like there are largemouth bass hiding everywhere and that's probably pretty much the case. This is paradise for a largemouth bass fisherman in a kayak. While it is a great fishing spot, the fishing here is very challenging at times. While it looks like there are fish everywhere, don't expect them to jump into the boat.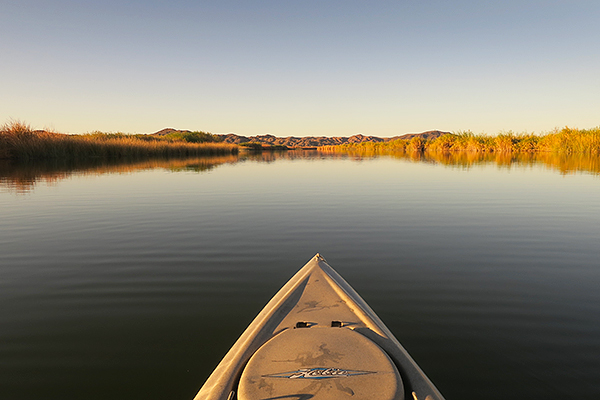 This area is very nice during the North American winter, with days in the low to mid seventies and a little chilly at night in the low forties. The sunrises and sunsets are beautiful.
We have been catching a lot more fish, not sure if the conditions are improving or we are figuring out how the lake works. The water temperature has a lot to do with it. If the water temperature gets too cold, the fishing goes just about completely dead. When the temperature is good, you can catch largemouth bass morning, noon and night. We've been fishing with plastic worms and grubs as well as a real nightcrawler on a Carolina rig.
We've managed to land some pretty nice largemouth bass. They are not pot belly big and fat like they are in the spring, but the bigger fish put up plenty of fight. One morning I caught four big bass in about forty five minutes, then caught almost nothing the rest of the day. That's why we wake up before dawn and get out there.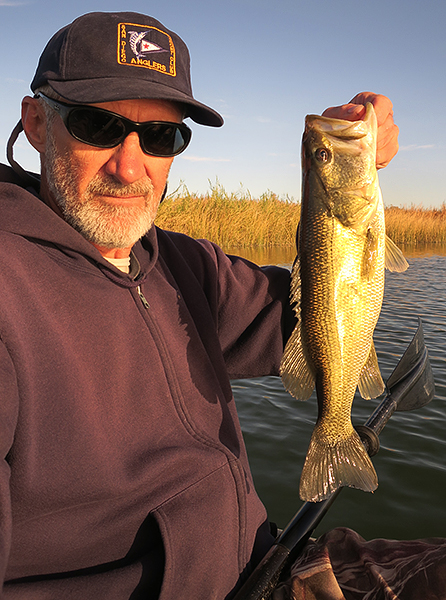 We'll be around town for a couple days while we get our gear squared away and then we will be back on the water. We are getting the hang of desert fishing and starting to land some nice fish so keep checking in. We should have videos on the watermanatwork.com YouTube channel soon.
Happy New to everyone! Good health and happiness to all!