We've been facing some tough kayak fishing conditions on the Columbia River looking for the smallmouth bass. It has been very windy, double digit wind speeds just about every day. The Columbia River Gorge is one of the windiest places in the United States, but even here you get a relatively calm day once and a while. Throw in a few random rain showers and it makes for challenging kayak fishing conditions.
Rain is not a big problem, especially since it's not really that cold, but the wind can be dangerous. Here on a cloudy John Day River, it looks pretty calm, but an hour later, the wind was blowing 15mph. You really have to pay attention to the wind in a fishing kayak.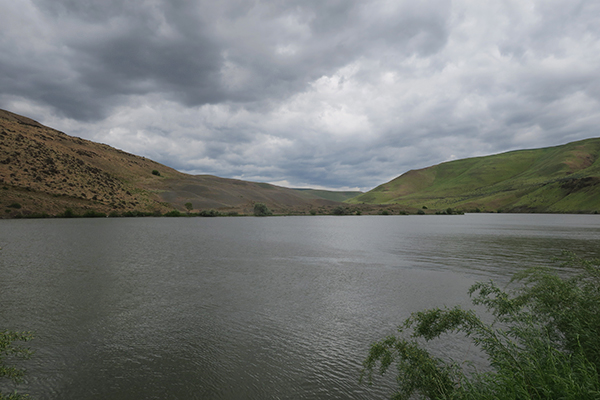 We've stopped hoping for a calm day on the Columbia and will now settle for anything under 10mph. Not ideal fishing conditions, but if we wait for a calm day, we might not be doing much fishing at all.
The smallmouth bass fishing has been pretty good whenever we've been able to make it out. No big fish so far, but a lot of hard fighting "one pounders". The sun came out for a couple seconds when I took the photo, but the rain resumed shortly thereafter.
We are trying every spot on the Columbia River that you can launch a kayak. Some of the places are pretty rugged, not only for the kayak, but for the truck getting to some of the more remote spots. Once and a while you get a rare "paddle up" camp spot, which is pretty cool.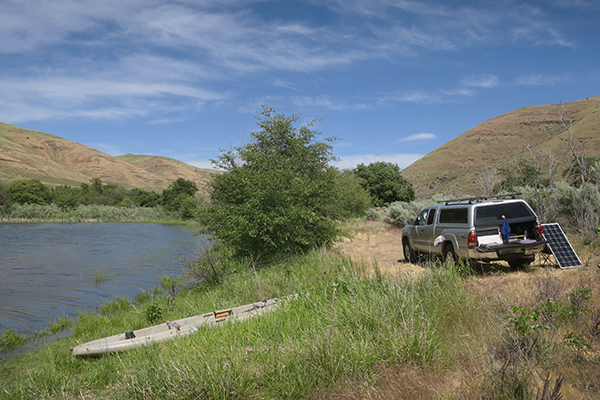 We are waiting out another windy few days, but we know the fishing is good so we will be back on the river as soon as the wind calms to non life threatening levels so check back soon.