After more than ten years of solid kayak fishing in the ocean, rivers and lakes, it was time to retire the stock paddle from my Hobie Quest. A lot of people complained about this paddle, but I've used it in about as many demanding kayak situations as you can find and I don't have too many complaints.
The one complaint I did have was about the aluminum shaft on the Hobie paddle. In the late and early fishing seasons on the Columbia River, the aluminum shaft was freezing to hold. It sucked the heat right out of your hands, even with gloves on. On days when it was hot, the black metal shaft was almost too hot to touch.
I was looking for a reasonably priced paddle with a composite shaft. Doing a fair amount of paddling, I wanted a more performance oriented blade than an entry level paddle. There are plenty of high performance, lightweight kayak paddles, but spending more than $300 on one was a little out of the budget. For equipment that spends a lot of time getting banged around, I was looking for something a bit more reasonable and came across the Werner Tybee.
Werner is a brand name kayak paddle company with plenty of paddles to choose from. The Tybee Hooked paddle has a carbon/fiberglass shaft and healthy fiberglass filled nylon blades. The adjustable ferrule allows to to adjust the angle of the paddle blades and is a precision fit. The paddle weighs about 38 oz., which is not bad for a durable paddle in this price range. The paddle blades were a nice, low key brown color. I bought this paddle about seven months ago for $135 and the price has remained the same.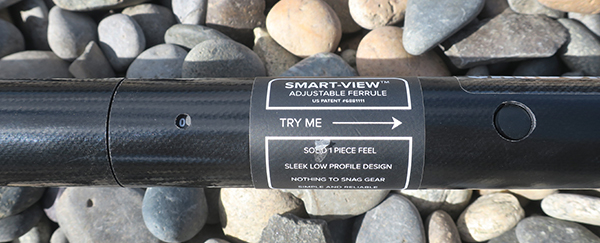 Being over 6′ tall and a reasonably strong paddler, I went for the 230cm paddle, which is somewhat longer than the original Hobie I've been using. The Tybee paddle blades were considerably stiffer than the Hobie as well. As far as the weight difference, I think the stock Hobie and the Werner Tybee weigh just about the same. There was a big performance difference because of the longer shaft and stronger and larger paddle blades. That meant that I had to come up with a bit more muscle power, but after a few fishing trips I got used to the new paddle and have enjoyed using it. I fish around a lot of rocks and the paddle has held up well.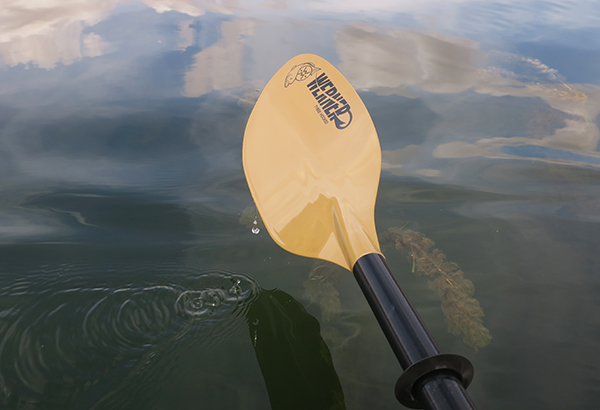 For the price, quality and performance, the Werner Tybee Hooked paddle is a great upgrade from a stock kayak paddle for an intermediate to advanced kayak fisherman. Like they say in the racing business; "strong, light, cheap; pick two". With the Werner Tybee Hooked paddle, you get about two and a half.
As with all the product reviews on watermanatwork.com, we buy the stuff just like you do so you get a 100% honest review because our money is on the line.