Lake Georgetown
Lake Georgetown
is a manmade reservoir on the North Fork of the San Gabriel River just outside of Georgetown, Texas in Williamson county, north of Austin on I-35. Circling the reservoir is the Goodwater Trail; twenty eight miles of dirt and rock trail that provide a challenging days mountain bike ride. There's not a lot of climbing, but there are some rocky sections that are quite technical; a beginner would walk them and an advanced rider would be challenged, most of the trail is dirt with scattered rocks. It will take a good part of the day to ride the entire loop. There is free parking for bikers outside the parks main gates, we parked outside the Cedar Breaks Park gate, the closest access to I-35, and started our ride from there, across the North San Gabriel Dam and counterclockwise around the lake. It can get hot, but you can get water at the parks and campgrounds as you ride through. The
Austin Ridge Riders Mountain Bike Club
has done a lot of work to make the Goodwater Trail rideable for mountain bikers, the trail is also popular with hikers.

Lake Georgetown/Goodwater Park Trail Map
Goodwater Trail Topo Map
Pace Bend
Pace Bend County Park
is located in Spicewood, Texas in Travis County, about thirty miles west of Austin on the shores of Lake Travis. There are probably about fifteen miles of trails, the
Austin Ridge Riders
are adding more all the time. The trails range from fast single and doubletrack to technical rocky sections and rock ledges along with a few manmade trail features. Conditions can range from too wet and muddy to ride to dry and dusty. By riding different variations of the trail loops, it's easy to get a full day's riding in. There is a day use fee, camping only costs a bit more, making Pace Bend an ideal spot for a weekend camping/biking/swimming trip.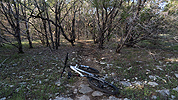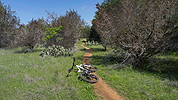 Official Trail Map
Austin Ridge Riders Trail Map
Reville Peak Ranch
Reville Peak Ranch
is a 1300 acre private ranch outside of Burnet, Texas in Burnet County, a little over an hour's drive northwest of Austin. There are over sixty miles of jeep roads and awesome
single and doubletrack trails
. The riding ranges from easy jeep roads and singletrack to very difficult, rocky and steep advanced trails. Most of the rocks in Texas Hill Country are slippery limestone, the rocks at Reville Peak Ranch are grippy granite, the closest thing to slickrock outside of Utah. You have to be on your game for the more challenging trails, falling on a pile of rocks usually leaves a mark. Reville Peak Ranch hosts a number of athletic competitions including bike and running races, they have a pump track and Super D course as well. There are campsites, two lakes for swimming and fishing, a pavilion and clean restrooms with showers. RPR has a $10 day use fee, camping is a $10 per night, but worth it for a weekend of great riding. The ranch is open to the public on Friday through Sunday, but we called in advance and they let us ride on weekdays. Reville Peak Ranch is easily our favorite mountain biking spot in Hill Country, great riding and facilities and the staff are super friendly and helpful.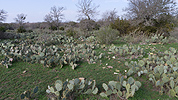 Reville Peak Ranch Trail Map
Walnut Creek
Walnut Creek Metropolitan Park
is located at 12138 N. Lamar Blvd. in Austin, TX. If you are an Austin mountain biker, you will be riding "The Nut" sooner or later. There are about twelve miles of winding trails with a few creek crossings thrown in that wind around the 293 acre park. There are a few harder trail sections, including some rooty drops, but the trails are mostly hard packed and smooth beginner to intermediate riding. Walnut Creek is unrideable when it is wet and muddy, riding when it is muddy will damage the trails. Walnut Creek is a heavily used multi-use public park; you will almost certainly encounter other bike riders, hikers and dog walkers, especially on weekends. Bicycle riding is very popular in the fast growing city of Austin, mountain bikers are fortunate to have a spot within city limits to get out and ride.


Walnut Creek Trail Map
There are plenty of other places for mountain bike riding in Central Texas, unfortunately, we didn't have a chance to check them all out. There's the popular
Barton Creek Greenbelt
and
Emma Long/City Park
in Austin,
Rocky Hill Ranch
in Smithville,
Flat Rock Ranch
in Comfort,
Muleshoe Bend
in Spicewood and
Reimer's Ranch
in Dripping Springs as well as many other spots to ride.