The kayak fishing on the Colorado River remains challenging for the past few days. To get skunked in such a good fishing spot is unusual, but it does happen. Usually you can catch a small bass, bluegill, crappie or something to keep you from skunkville, but sometimes, especially if the river water is cold, you can be rewarded for your hard fishing efforts with nothing. Fishing for largemouth bass should be considered big game fishing, sometimes it all or nothing. Tuna, salmon; big game fish, the same deal. When a good fisherman gets skunked, he knows there's only one way to go from there.
That's pretty much what's happening. The fishing is getting a little better and we are starting to see a few bigger fish. The conditions for kayak fishing have been very good with one exception; the mosquitoes. This part of the Colorado River runs through the desert, it's the only water around. Water is life in the desert and is the only lifeline for mosquitoes. There is a lot of swamp, marsh, wetlands, whatever you call it adjacent to the river; perfect breeding ground for mosquitoes. Conditions are perfect, beautiful day, you can't see the thousands of mosquitoes.
We paddled and fished everywhere on the lower Colorado River we have had success before and tried to cover every nook and cranny of the river. When the fishing is not that good, you kind of accept that and spend a bit more time looking around. I haven't had much luck fishing in this Colorado River backwater, but I did see a wildcat here, so it's always worth having a look.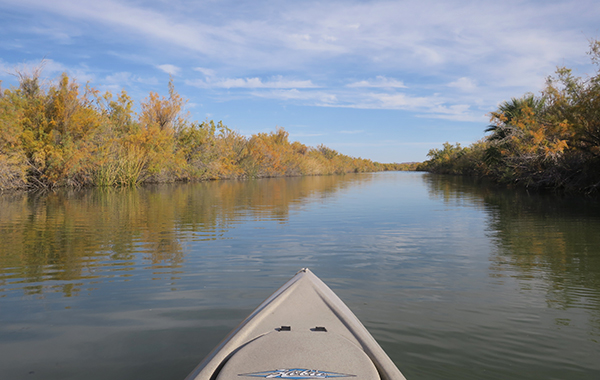 Since we are visitors here with a limited amount of time, fishing is what we came here for and that's what we are going to do. Even if the conditions are marginal or the fishing is not that great. The more time you spend fishing, the more fish you are going to catch. At least that's what we're working with. Fish gotta eat. Sooner or later, you'll get one.
After a long, hot day of desert kayak fishing, it's always a treat to pack up the boat and all the gear. We are extremely fortunate to have places like this where you can experience the best of this country and not have to pay(much). Launch before sunrise, paddle the calm water through cattail islands among thousands of birds with the stars shining brightly in the dark desert sky. This is some of the very last wild country here in the United States. We recommend you get out there and experience it while it is still here.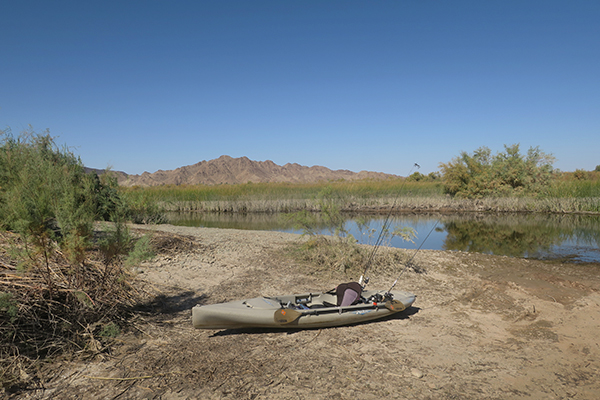 We spent a little bit more gas money and motored away from the river a bit to get away from the mosquitoes. Around the water, it's like an Alfred Hitchcock movie just after sunset with swarms of hungry mosquitoes. Away from the river, there are flies during the day, but no mosquitoes. The weather in the desert at night is usually extremely comfortable. To be able to enjoy it without being eaten alive is great. Have a couple cold beers after a long, hot day of fishing and rest up for another fishing day tomorrow.
The thing about largemouth bass fishing, and other big game fishing, is that you don't catch anything until you do. The day before, I got skunked. Other local fishermen confirmed the fishing was bad, but still… This day, my luck did a 180 and I caught six or eight bass. Most of them pretty small, but I caught a nice one before the sun came up, a big boost after a day of nada, and after making a perfect cast with the crankbait on the casting rig on the way back to the launch, I got this nice bass, which could be the best of the season for me so far.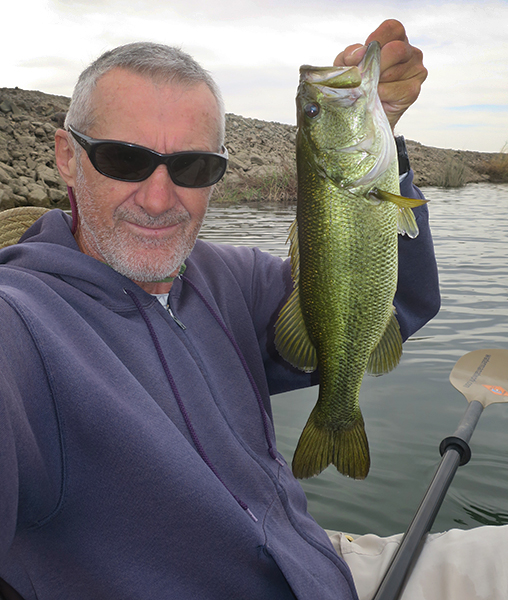 That's about it from the desert southwest. We are on the water every chance we get and we still have video footage from last season we are still working on. There's always a lot going on here, please check back and see what's next. We sure don't know.