Kayaks can take you to a lot of places where boats would have a great deal of difficulty due to the shallow water, underwater obstacles inches below the surface and sandbars that can stretch across the entire river. Not to mention that the road to get the launch on the river would probably destroy your boat trailer. Driving along the rivers looking for places to launch the kayak reminds me of the days in Baja, headed south and turning west at any dirt road we thought might lead to that perfect surf spot. A bit different here and now, but the desert is still hot and dusty.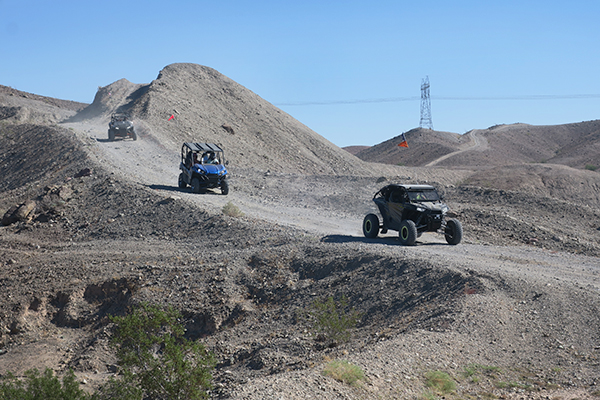 In this part of the desert, water is life, so there are a lot of large canals that transport Colorado River water to the smaller irrigation canals of the agricultural fields that supply a good deal of winter vegetables to the rest of the United States. In the middle of it all is the Colorado River, which gets smaller and smaller as it nears the Mexican border. Each stretch of the Colorado is bit different with a lot of potential for bass fishing.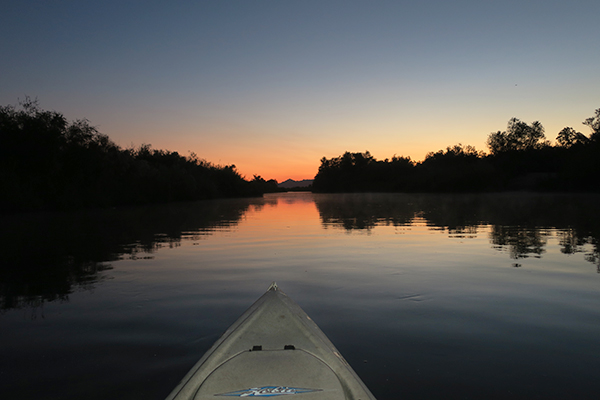 We were up before sunrise looking for hot bass fishing action, but the Colorado River largemouth bass did not read the script. The reeds that grow next to the river are very tall so it looks like you're in the middle of nowhere, but the river here is surrounded by large farming operations. As the sun came up over the tall bushes, the largemouth bass got a little more lively.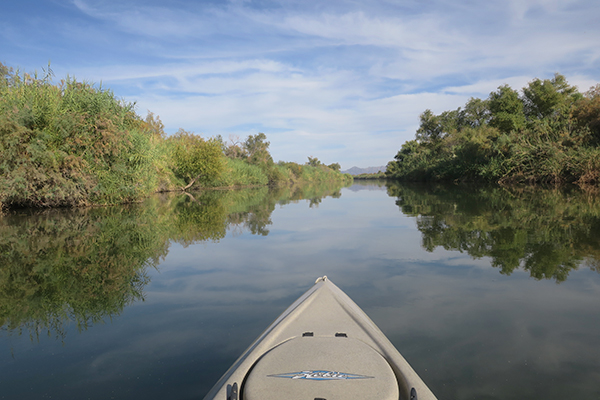 The river looks pretty calm in the photo, but, depending on the depth, there is a steady current. Stop paddling and you go downstream. The water is generally shallow with very shallow sandbars. The river water is super clear. You usually have to cast from out in the river up against the bank with a swift current; keeps you busy.
Off of the main river channel there are backwaters and overgrown irrigation canals. These canals can be less than a foot deep with deeper pools along the banks where the reeds shade the water. There are a bunch of fish in here, but the clear, shallow water and narrow passage make it easy to spook them before you can cast.
Probably due to the fast moving current, where potential food goes past pretty quickly, the largemouth bass here are very aggressive, which is just what you want as a fisherman. Even the smaller fish hit hard and put up a great fight.
We ran into Randy, a local fisherman using a Hobie Pro Angler which looked to be just about perfect to handle the steady current. Holding steady against the current with your hands free is a big plus here.
Minutes after I took this photo of Randy, he peddled a short distance, hooked up and landed a 7 1/2 lb. largemouth bass. It was only fifteen yards from where I was standing on shore so I got to see the whole battle. A great way to end a great day of fishing.
Wish I could say I caught a seven pounder, but I didn't come close. The biggest fish I caught were about a pound, pound and a half. Not complaining though because I caught a lot of fish, had a lot of strikes and an unbelievable amount of bass able to spit out the 4″ grub.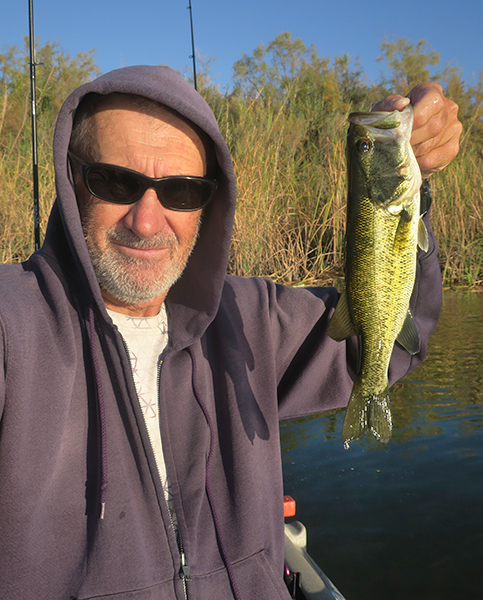 This was a great place to fish, a unique part of the desert southwest river system. It is also one of the rare places you can paddle up to your campsite. Just like where we live on the Columbia River, you can camp for free, all you have to do is pack out your litter. This seems to be too much to ask. This great fishing/kayaking/swimming/camping spot looks like the city dump. Not just here, where we live as well. It is sad to see America's great rivers like the Columbia and Colorado littered with trash.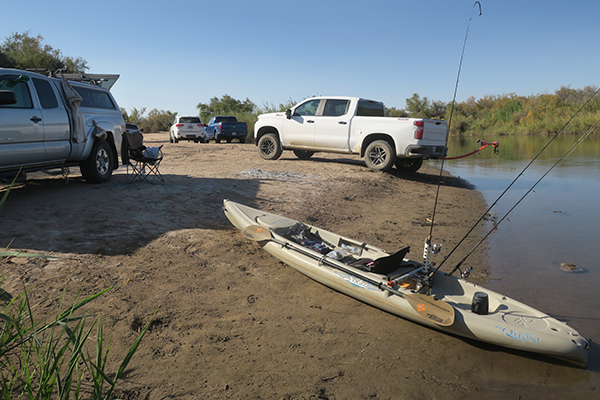 After a day of fishing and paddling against the current, I was pretty well worn out. Thankfully, there were no mosquitoes, so getting the fishing gear ready to go for the following morning was a breeze and I didn't have far to go to the master bedroom. Beyond my Hobie Quest kayak is Randy's Chevy Trail Boss pickup truck with a bed extender for his Pro Angler.
It was a great weekend of fishing at a spot I'd never been too, caught a lot of fish, met some nice people. I talked with a local fisherman who was thinking of trying kayak fishing. This area has great kayak fishing, hard to go wrong. Fished with Randy, who caught the fish of the weekend for sure. He's a cool guy and can lift a Hobie Pro angler in the back of his pickup, no problemo. After a full weekend of desert kayak fishing, he drove across the desert to catch a cross-country air flight. That's a hardcore kayak fisherman, so he gets one more photo.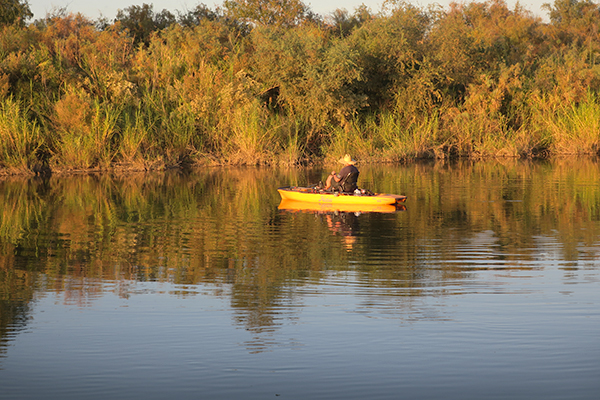 There are a few unsettled weather days ahead, but we are always encouraged by the results of our exploration, and we are going to be looking for more kayak fishing action. Check back soon.