After leaving my digital camera on the roof of my truck and driving away from a mountain bike trailhead, I found myself looking for another camera. I have a nice Canon DSLR, but it is too big and heavy to carry around when I'm riding bikes or traveling light, so I needed a camera that was small and light that has excellent image quality and professional features like manual controls for exposure and focus and RAW format imaging.
There aren't many compact cameras with manual controls and RAW format images and I quickly narrowed my choices down to the Canon Powershot S95 and the Panasonic Lumix DMC-LX5. Both are excellent cameras with superb image quality so deciding between the two was going to come down to features and handling. Both cameras have a long list of features, deciding between the two of them was tough, especially since I am a long time Canon camera owner. Canon is well known for top quality cameras and lenses, but the Leica lens on the Lumix has a reputation for quality as well, so I decided go with the Panasonic this time around.
When I got the camera, I was amazed at how small it was. Not a true "shirt pocket" camera, but very small and easy to carry around. The Lumix has a removable lens cap, which is kind of unusual for a compact camera. I'm used to dealing with lens caps from using an SLR, but if you are coming from a "point and shoot" digital camera, dealing with the lens cap may be a bit of a hassle. The lens cap must be removed before the camera is turned on(even if the camera is plugged into a computer to download photos and/or video from the camera) or the camera will show a "Remove lens cap and press any button" message on the LCD viewfinder. JJC makes an Auto Lens Cap for the LX5 that automatically opens and closes when the camera is turned on and off if the stock lens cap turns out to be too much of a hassle.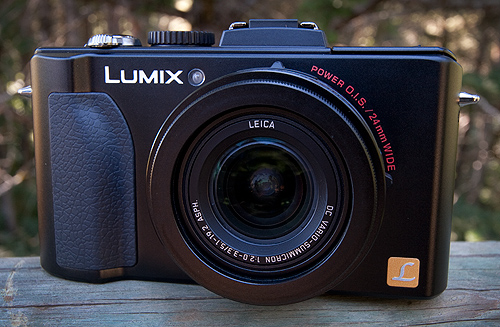 When the camera is turned on(and the lens cap removed), the Leica lens extends from the camera. Even though the camera is small, it is well balanced and feels very solid. It has a rubber grip on the right side of the camera that helps the photographer to keep a firm grip on the camera.
Lumix LX5 Features
Leica Lens – The Lumix LX5 has a fast, sharp Leica lens. The f2.0-3.3 24-90mm(35mm equivalent) is about is good as you're going to get on a compact camera. The f2.0 speed is helpful in low light situations, especially since the on board flash has limited range and some photographers just prefer natural light as long as it's available. The 24mm(35mm equivalent) wide angle lens is perfect on a small camera to get in close to your subject. If you are a photographer that prefers to stand back and use a telephoto, the LX5 may be a little shorter than other cameras in it's class on max telephoto, but if you like to get into the action with a fast wide angle lens, the Lumix is a great choice. The auto focus in standard and macro modes is very fast and accurate, if it's not good enough, there is manual focus as well. The lens is optically stabilized with Panasonic's Power O.I.S(Optical Image Stabilizer).
10MP MultiAspect CCD Sensor – It seems like camera manufacturers are backing away from more megapixels and focusing more on image quality. The Lumix 1/1.63″ CCD sensor has increased sensitivity to expand the dynamic range. The bright Leica lens and improved sensor produce sharp, beautiful images, especially in the RAW format. There is a manual control on the lens barrel that allows the user to change the image aspect ratio. The 4:3 ratio is standard, 16:9 is great for wide shots like landscapes, 1:1 is a square pixel format common with computer displays.
Manual Controls – Serious photographers want control over their images, manual control is mandatory. The Lumix LX5 has a full range of manual controls; exposure, white balance, focus and more. There are many creative imaging modes, but to be honest, I've pretty much used the camera in Manual mode most of the time, shot in RAW format and do my image manipulation with Photoshop CS4. There are options to create custom menus to change commonly used camera settings. There is a knob on top of the camera, similar to a DSLR, for shooting modes and a control wheel on the back of the camera to change aperture and shutter speed as well as for manual focus.
HD Video – Most DSLR cameras can shoot HD video, that technology has trickled down to compact cameras. Panasonic has a strong legacy in HD video and they have put that technology in the Lumix LX5. The Lumix can shoot 1280 x 720(720p) HD video as high as 17Mbps in AVCHD Lite format as well as Motion JPEG(MJPEG) in 1280 x 720, 640 x 480, 320 x 240 and 848 x 480, all at 30fps. It has pretty decent Dolby sound with a wind cut feature. The Lumix has a separate movie button on top of the camera to start recording. With the camera set in "Auto" movie mode, it's super easy to go from shooting photos to movies with the push of a button. The Lumix also has full manual exposure controls for video and continuous autofocus while zooming. There are also plenty of creative settings in the video mode, haven't got to many of them yet. The LX5 produces great HD video for such a small camera. The only negative here would be that the Lumix has a sensor bloom issue with some specular highlights. Not a major issue, but in certain situations it can be a problem.
More Features – The LX5 has a large, bright 3″, 460K pixel TFT LCD display that shows nearly 100% Field Of View. It has a hot shoe for external flash, something you don't find too often on compact cameras. There is also an electronic and optical viewfinder available that mount to the hot shoe for situations where it might be hard to see the camera's LCD display screen. Like most compact cameras, the on board flash is not going to be very effective at any distance, but up to about 23 feet(7m), the flash works pretty well. By manually adjusting the aperture and/or shutter speed, you can get pretty good looking fill flash shots.
The LX5 uses an SD/SDHC/SDXC flash storage card. To be sure that there wouldn't be any problems, especially with HD video, I use a Class 10 16GB SDHC card. You can probably use a Class 4 or Class 6 as well. A 32GB SDHC card would have been nice, but the 16GB card is more reasonably priced and it holds plenty of photos and videos. For security reasons, I would almost rather have two 16GB cards instead of one 32GB card. SDXC cards have higher capacity, but they are pretty expensive, have to wait a bit on those for the price to drop.
The Lumix comes with a micro USB cable to hook up to your computer, it also has an HDMI port. My Windows 7 had no problems recognizing the camera, transferring files is copy and paste(or drag and drop). The Panasonic RW2 format files are not recognized by Windows or Adobe Photoshop CS4, from what I understand, they will work with Photoshop CS5. If you have an older version of Photoshop and can't afford a new version every year, you can convert the Panasonic RW2 files to DNG with the Adobe DNG Converter without any loss in quality and you can open them in Adobe Bridge, Lightroom and Photoshop. There are DNG converters for Windows and Apple computers. Shooting HD video in AVCHD produces .mts files. You can view them on your computer with the VLC Media Player, Windows Media Player plays them as well. As with any HD video, to work with it, you are going to need a fairly powerful computer, the old Pentium 3 with 512MB RAM is not going to cut it. Adobe Premiere CS4 and Sony Vegas 9 are capable of editing native AVCHD files, there are a number of ways to transcode the video files to get them to work with other editing software as well. The Lumix comes packaged with PHOTOfunSTUDIO 5.0 and Silkypix Developer Studio 3.1, so if you don't have any photo or video editing software, they should be enough to get you going.
Accessories
Although the LX5 is a small camera, it doesn't have a small price tag, so you are going to want to take care of it. First thing I got for my camera was a protective case. The case I got is the CaseLogic TBC303. It fits the camera perfectly, has a separate zippered compartment for a spare battery and memory card, strong belt loop and twenty five year warranty. Only cost about $12. Case closed.
Since these compact cameras are so small, it is impossible to use AA batteries, so they all have proprietary lithium ion batteries. The Lumix LX5 comes with a DMW-BCJ13E Li-ion battery and charger. For a small battery, it holds a charge pretty well. Panasonic says 400 images, your mileage may vary, especially if you shoot photos and HD video. I've found that a fully charged battery will last nearly an entire day of shooting photos and AVCHD video. The battery did run out before I filled up a 16GB SDHC card. The stock Panasonic batteries are expensive, the cheapest I've found is about $35. You can get cheapo Chinese replacement batteries for less than $10 each, but they won't have Panasonic's proprietary microchip in them so there will be no battery power level readout. They also may not work at all. Both the eBay specials in the photo below gave a "This battery cannot be used with this camera" message when first installed, but after the original message, the battery on the right worked fine(without a power level readout) while the battery on the left did not work at all. Both batteries were purchased at the same time from eBay seller "atcsupplyusa". They claim to be in Chicago, but it must be the Chinese part of Chicago because their emails are from China. There are several feedback cases that batteries from this company destroyed laptop computers or battery chargers melted, there's a chance a battery from a company like this will ruin your camera. atcsupplyusa are textbook eBay scammers; cheap Chinese batteries with no quality control or testing, bogus positive feedback and worthless 60 day refund claims. Best to bite the bullet and cough up the money for a genuine Panasonic battery.
So, who would be interested in the Lumix LX5? If you are a professional or serious amateur photographer looking for a top quality camera to take along when it's not possible to carry your expensive and bulky DSLR, it would be a good choice. I shoot a lot out in the field; bicycle riding, camping, snowboarding and skiing, etc.; the LX5 produces images that are nearly as good as my DSLR as well as HD video in a very compact package. If you are getting into photography and can't afford a DSLR and lenses, the LX5 would be a good starter camera that could become your backup when you do get a full sized camera. If you want an auto-everything point and shoot camera, the LX5 would be overkill, you'd be better off with a $100 P&S camera that will be easier for you to use.
There you have it. As with all product reviews on WatermanAtWork.com, we do not get anything free, we pay for them just like you do, our reviews are made by people who need to get their money's worth out of the things they buy. As we continue to use the Lumix LX5, this review will be updated accordingly.