The wind in the southwest desert of Arizona continues to blow so we are trying our hand at canal fishing. The Colorado River and larger lakes are a little sketchy in the wind, so until we get more experience with the quickly changing wind conditions, we are fishing from the banks of large irrigation canals that provide all the water to this area of desert. We rode around on our mountain bikes talking to local fishermen to get an idea of what to do. There are miles and miles of these canals and a lot of them hold fish.
Winter is not all that harsh here in the southwest American desert, so getting up before sunrise to go fishing is not all that difficult.
We spent the past couple days fishing at this spot on the Gila Gravity Canal and had a few bites and caught a couple fish, but just like on the Columbia River with the dams, the water is moved through these irrigation canals and when the water levels or temperature changes suddenly, it puts the fish off biting for a day or so. The fishing is good here in the winter, but it's usually not the best time of year for different species, especially the largemouth bass we would like to find. Kayaking is not allowed in these canals, which is a shame, because they are perfect for kayak fishing.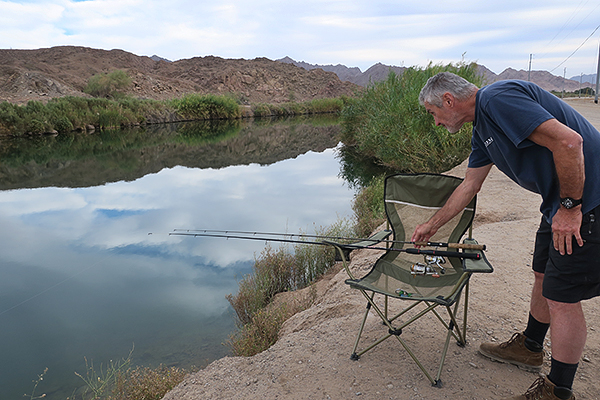 Even though the fishing could be rated a little slow, I managed to catch a chunky bluegill and a slightly larger redear, which looks like a sunfish on steroids.
We are searching the area for fishing spots by truck and mountain bike. There is a lot of potential fishing areas here, we are hoping the wind dies down soon so we can get the kayaks out on the bigger water.
We are camped out at Fortuna Pond, just outside of Yuma, AZ. The fishing here has been pretty poor, but it's a convenient camping place to wait for the wind to die down. Pretty nice place to spend a few days, even it the fish aren't biting.
I think we will be loading up with supplies in the next day or two and head for better fishing grounds. Maybe the wind will die down or we can find some wind protected areas to fish. Keep checking in as we explore the southwest desert for kayak fishing spots.