If the wind can blow your troubles away, you should spend a few hours around here and you'll be good to go. The Columbia Gorge wind is legendary and it's living up to the reputation for the past few weeks. There has not been a calm day for weeks so kayak fishing on the Columbia River has not been happening. We've given up hoping for calm days and would now settle for anything in the single digit wind speed. It's been a great summer for the kiteboarders and sailboarders. Here's a link to the live cams in the Columbia River Gorge. As far as kayak fishing goes, we're hoping things settle down because salmon fishing season is just a few weeks away.
Since kayak fishing is out, we have been riding bikes as much as possible. I'm trying to keep up with the guys in the Tour de France and ride nearly every day. The weather is nice, despite the wind and the summer days are long so you can't let a single nice day go by without doing something or you'll regret it in December. I look at it as a month long training camp. There's a lot of places to ride around here, but being able to ride in some of the nicest areas of the Pacific Northwest without getting in the truck is a real blessing for which I am grateful. Riding bikes in the Cascade Mountains is a good workout. Should be in pretty good shape by the end of the summer.
Road cycling gives you more bang for you buck as far as workout time goes and we ride to the end of the road. Mountain biking is more fun and a good workout. You can head off into the woods and ride all day long.
Riding a mountain bike in the Cascade Mountains is a lot of fun and can be a real adventure. You see something different every time you ride. Below is the view through the trees as you head up towards Mt. Hood. Mt. Adams is in the middle with Mt. St. Helens off to the left. Both the mountains, volcanoes of course, are in Washington.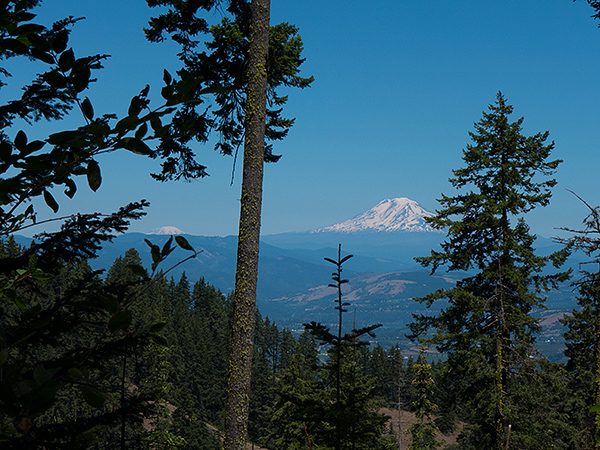 There's a lot of wildlife in this area, you never know what you might run across. In the summer, we also have a quality assortment of bugs. Luckily, only a small percentage will bite or sting you and some of them are pretty amazing to look at.
We are hoping for a little more fishing action, otherwise, we'll be trying to get in shape on the bikes. This is the time of year for outdoor chores, we want to get all of that and any truck repairs out of the way before salmon season.