The relentless wind has put a hold on the kayak fishing so off we go for a little cycling in eastern Washington. Most of the people in Washington live near the coast and there are thousands of miles of blacktop and dirt roads in the eastern part of the state that don't get much use. When freeways were built, most of the traffic on these once main roads dropped to nearly nothing. They are roads through a time gone by.
We started out by the Columbia River checking out some kayak fishing spots.
Heading up into the hills around the Columbia River, you can catch a glimpse of Mt. Hood in the distance.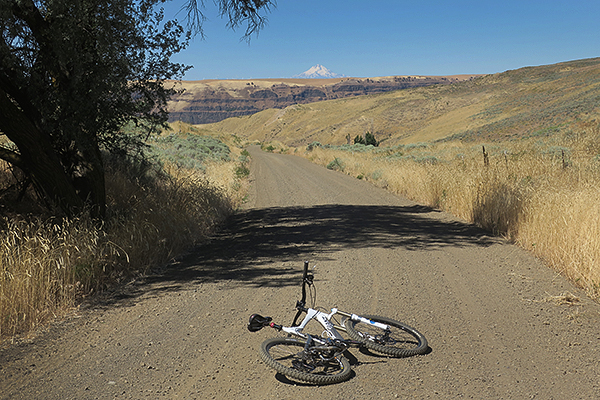 You quickly leave any traffic behind as the road winds up the hills to the north.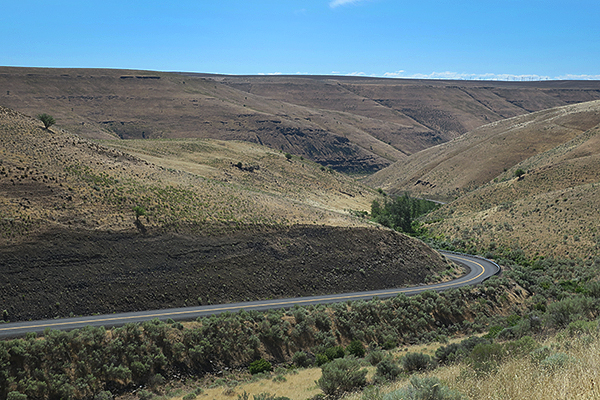 When you run into cattle guards at the intersections of the roads, you've come to a place where things are much different than in most of the United States.
Riding a road bike is a good way to go because you can cover more territory and see more of the countryside. Or, you can ride a mountain bike because there are plenty of dirt roads. Either way, take plenty of water because it is hot and dry. Carry a spare tube or two and everything you need for roadside repairs because there are no stores or gas stations.
Get away from the traffic and clouds, head east!