With daytime temperatures reaching 107°F and only dropping into the low 80's at night, we knew we wouldn't be able to hang on much longer. Everything, including water and food, was no cooler than 80°. Dehydration or heatstroke is a real risk.
Knowing we were down to the last few days of largemouth bass fishing, we were on the water every day long before sunrise. The skies are dark and full of stars. In the last few days, we saw a few meteors enter the atmosphere leaving bright green and white trails.
It was also easy to get going early because that's when the largemouth bass fishing seemed to be the best. I caught a lot of nice fish before the sun came up.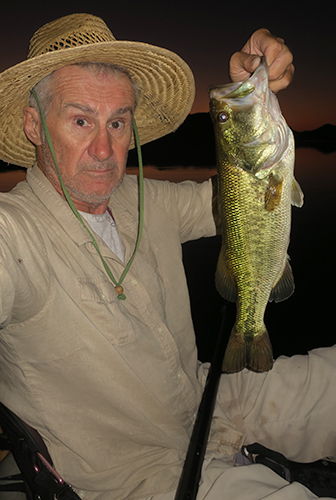 Sunrise means that it is going to get hot very quickly, but it also means that the mosquitoes will no longer be attacking you. The best time of the day for fishing is about half over.
The early morning fishing continued to be good. I think that quietly moving in on these fish with a kayak was a key factor in our success.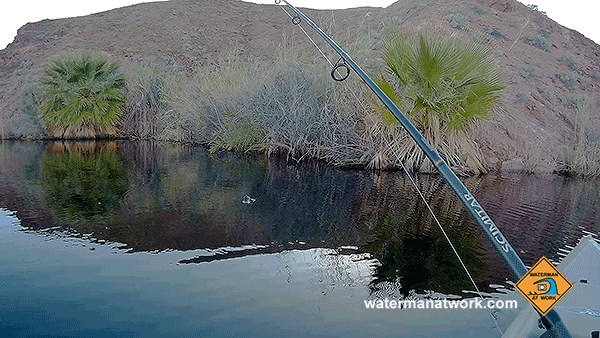 Our last day of fishing turned out to be a hot, but spectacular day. Partly overcast, which is break from the normal clear blue skies, and calm desert wind.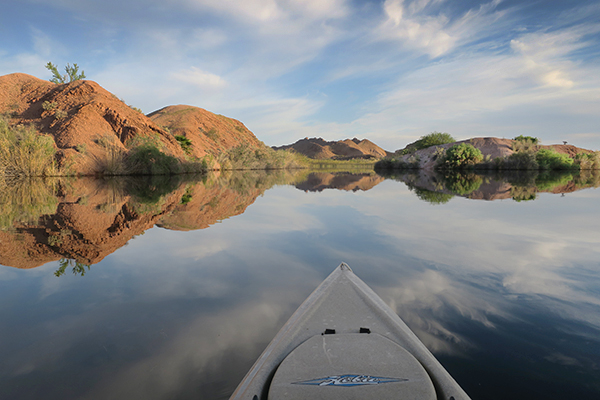 The last largemouth bass on the last day of the kayak fishing trip turned out to be a nice one.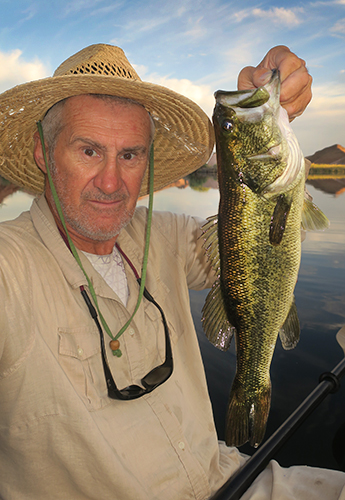 We paddled through the Colorado River backwaters to the launch beach for the last time this season, I couldn't help but wonder what the future holds.
By the time we loaded our gear and drove back to our campsite, it was 105°. We'd spent the last couple weeks in the desert with the temperature over 100° every day. If it wasn't for this desolate tree in the desert that provided shade in the afternoon, we wouldn't have been able to stay that long. We were baked, time to get out of the oven.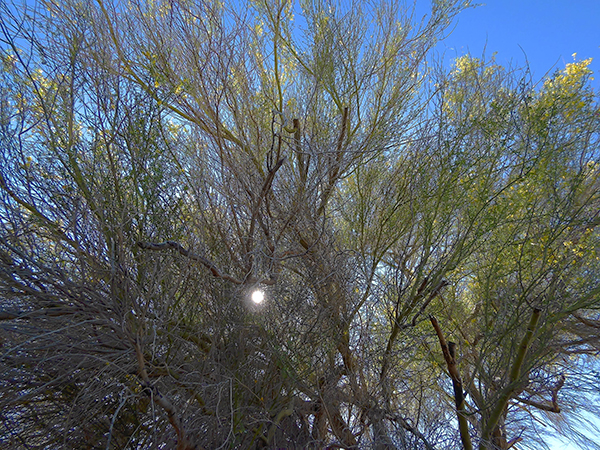 We posted this blog and are currently in transit back to our home in the Columbia River Gorge. The pandemic has already caused major disruptions in this area of small towns with large cities an hour's drive away. I'm not sure what we'll find when we get there, but there may be a delays in blog entries.
We've started a WatermanAtWork Instagram page and will try to fill in the gaps between blog posts with photos and comments on Instagram. The link to the WatermanAtWork Instagram page is here on the blog in the "Links" section.
Check back soon and stay safe!