With the exception of a brief June snow and freezing rain storm, the weather for mountain bike riding in the Cascade Mountains has been pretty good. Low 40's at night warming up to about 70° in the afternoon.
The seasonal snow melt has tapered off and soon only the permenant creeks and streams will have water in them. The water drying up also means the local wildlife will be heading higher up the mountain.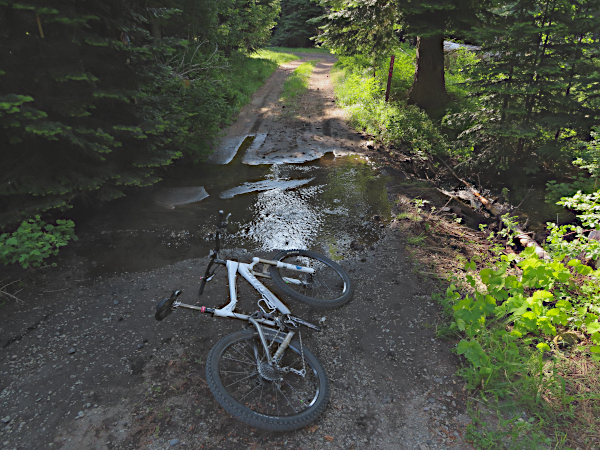 There have been a few cloudy days, but it has been mostly sunny and partly cloudy, pretty good for bike riding.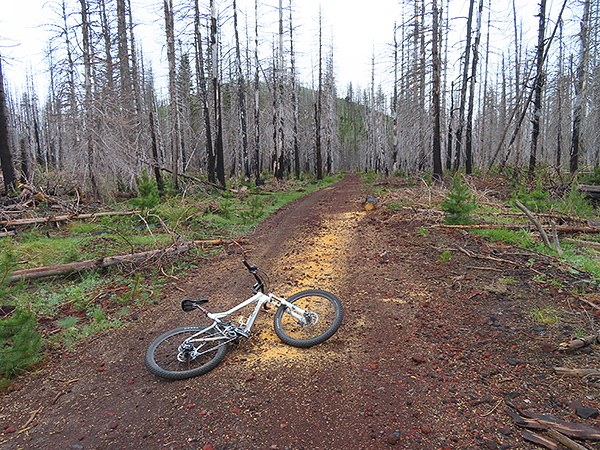 As storms pass through the Cascade Mountains, clouds linger near Mt. Adams the longest. At over 12,000′, it stops almost everything that passes by.
Here's a little closer look at what is basically the south face of the mountain. It may look peaceful, but the wind can be over fifty miles per hour and avalanche danger increases as the snow melts and creates a lubricating layer of water between compressed snow and the glaciers underneath.
Back in the comfy MTB camp, the local animals are pretty friendly. Birds will wander through and whistle to see if anybody responds. There's lot's of butterflies and the deer come wandering right into camp.
The training plan seems to be working out. Even though I want to ride more, at the begining of the season, you have to ease into it, especially here in the mountains, where there is always plenty of climbing. I can ride a bit longer every week. Longer rides up the mountain means you see more stuff. This is still pretty wild country.
We ride a little higher all the time. There is always something to see on the way up. We usually leave pretty early in the morning which is when the wildlife is most active.
In the higher mountains, the mileage ridden is not that important, a two mile mountain climb can take a long time. Many of the trails in this area have minimal or no trail grooming, so even the technical downhills are relatively slow. Time in the saddle is more important. How far you can ride limits your ability on where you can go.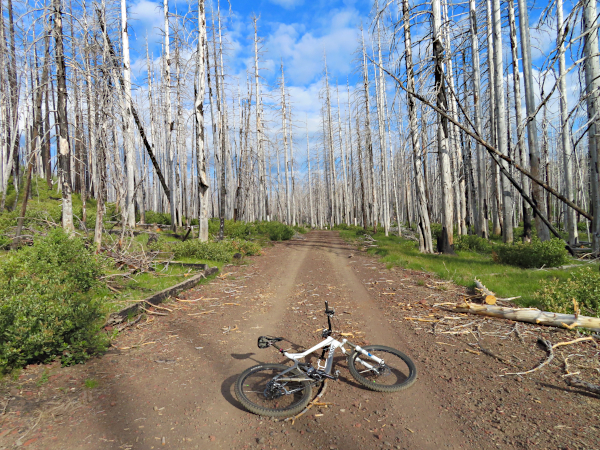 I can go two hours at this point. About an hour and a quarter up, the rest downhill back home. Since my racing days are over and I'm not in a hurry, always time for one more photo of the mountain on the way home.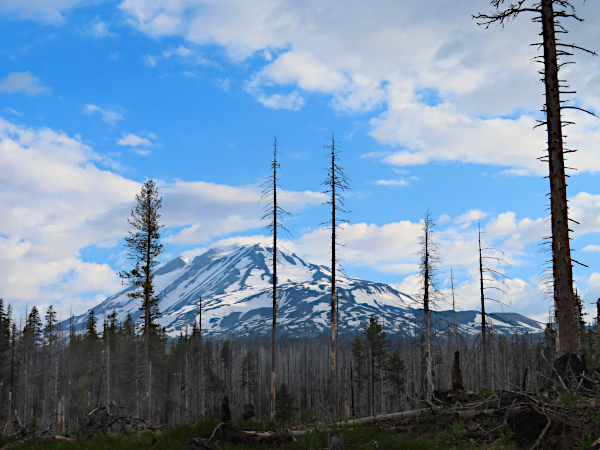 The great riding continues so check back soon.