We've had the Eluktronics N850HK1 laptop computer for a couple weeks now and are starting to see what it has to offer so we are giving it an initial review after getting to know the computer.
Eluktronics pre-sales customer service was great. They answered all my questions and were offered to change a couple things to make the computer what I wanted. I kept track of my order on their website and they kept me informed about my order. The computer arrived pretty quickly for free shipping and was packaged very well. I got a Windows 10 Pro upgrade which was installed with all the necessary drivers to have the computer running right out of the box.
The computer is a Clevo N850HK1. Different vendors sell this computer with different components. The Eluktronics N850HK1 is basic black, plastic, kind of high performance looking laptop. It's surprisingly thin for all the stuff it's got in there. The display half of the laptop is pretty thin, I would not pick up this computer by the lid. The display panel itself is LG LP156WF6-SPB1, which is a really nice 72% NTSC IPS screen. I've played a few video games, and done some video and photo editing and I have no complaints.
It took me awhile to figure out how to configure the programs, games and apps to use either the integrated Intel graphics or the GeForce 1050Ti. There is a big, big difference between the two in graphics performance, that's for sure. I played some fairly moderate computer games(Pinball FX2, Serious Sam HD) and did not notice any significant excess heat, even after a few hours of gaming. I'm sure more complex games will tax the system a bit more, but it's encouraging to see everything in the max power department working as expected. We'll get to run the CPU up to the red line when we do some full length video rendering, but so far with Photoshop and short video clip production, the Intel i7 processor barely seems to be getting a workout.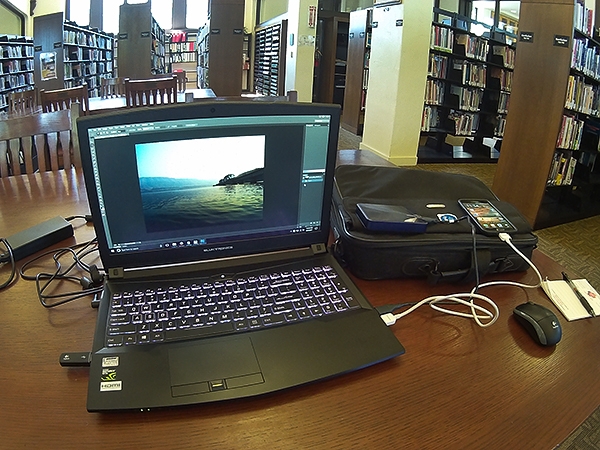 The 256GB Eluktro Pro-X m.2 SSD is fast and has been working well. 16G RAM does the job. The 2TB 5400 rpm HD that came with the computer is an older model Seagate Barracuda 128MB cache with a two year warranty. We are not the biggest Seagate fans but laptop hard drive choices 2TB and over are limited, so we'll see how it goes. Everything is backed up on a USB 3.0 WD 4TB Passport external drive. The card reader and USB ports all work the way you'd expect. Don't have any USB-C peripherals, so we'll have to wait for that.
What don't I like so far? Not much really. The keyboard has a little bit of flex, but it's not noticeable unless you are looking at the keys while you type. The touchpad seems really sensitive, but I'm not much of a touchpad fan and try to only use them when necessary, so it's probably the way it's supposed to be. I don't like some of the things about Windows 10, but that's no reflection on the computer itself.
So now the Eluktronics N850HK1 is in everyday use for the watermanatwork.com field unit. The watermanatwork.com blog posts, photos and videos are now coming from the Eluktronics N850HK1. It's going to get a workout so we'll keep the reviews updated.