Sunday, Don and I headed up to Meadows for the last day of boarding of 2009. Weather report called for rain below 5000′; a couple inches of snow above that. We got there to find lots of fresh snow; 2-6″ in many spots off of Cascade chair. Great runs off the cat track; not exactly powder, but fresh, untracked snow.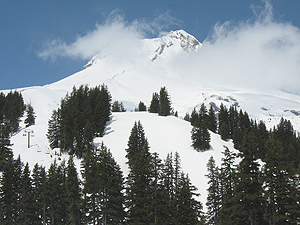 The snow was great; we were expecting rain, but the sun came out about 10AM for bluebird conditions for the rest of the day. Stoked. When the runs off Cascade were used up, we headed over to Heather. Stoked to find soft, fresh snow. Since it was the last day of the year, we hiked up above the A-Drop to the 225 chute for one final drop into the canyon. Steep with soft snow for one glory run into Heather canyon.

Really great. Another drop into the Moon bowl and one into the Twilight bowl and the season was over.
We stopped in Horsefeathers in Hood River to have a couple of their new 8.5% brewskis and talk about the great 2008-09 season; it was a really good year. Now we saddle up the mountain bikes.