As most people interested in fishing probably know, the Pacific Northwest is well known for salmon fishing. While most fishermen may think salmon fishing is a solitary experience on some remote river, that is only partially true. Some of the rivers are pretty remote, but the salmon runs are well publicized and fishermen come from all over the world to try and catch one of these trophy fish. Larger rivers are often crowded with boats nearly on top of each other and it is not uncommon to see fishermen shoulder to shoulder in the smaller rivers, spin casting and fly fishing for salmon and steelhead. It's hard to believe that any of the fish get past the native American gill nets, commercial and sport fishermen as well as getting over the large dams on the Columbia River to find their way up their home stream to spawn.
Not much you can do to avoid the flotilla of boats on the Columbia River, paddling my kayak through the mob isn't much fun and I sure don't like standing two feet away from another fisherman on the smaller rivers, so I came up with a plan; use my mountain bike to reach fishing spots that most guys can't get to unless they want to walk a couple miles or more. I thought about doing this last fall, but never got around to it. Earlier this month, I got on my bike and scouted out a few choice fishing holes on the opposite side of the river from everybody else. Got a rack for the bike, bungeed a couple rods to it and headed up the river. I managed to get to a couple spots I hadn't fished before and it looks like it's going to be a good way to go.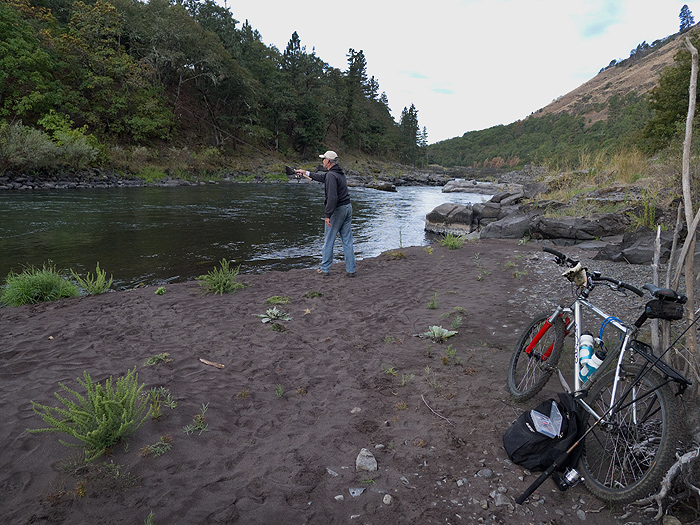 Using the bike enables me to access fishing spots that other guys have to cast across the river to get to.
I wanted to take my waders and wading boots with me but it was tough to get them to stay on the bike rack so I borrowed a concept from kayak fishing and attached a milk crate to the rack. Now, I can take my waders and wading boots, as well as additional fishing and photo gear.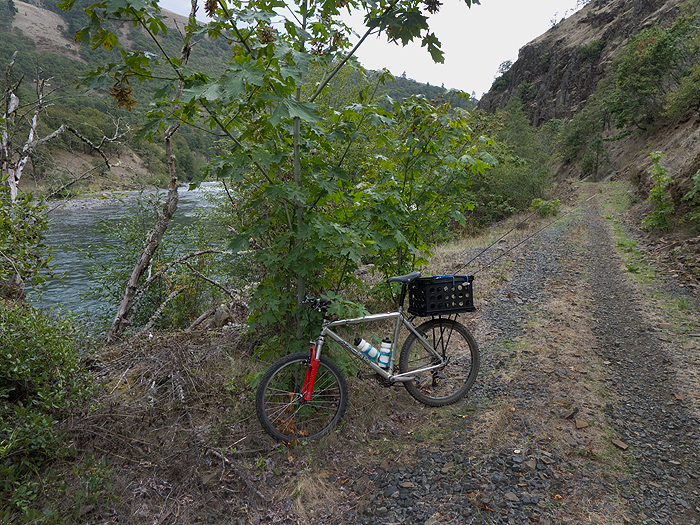 Unfortunately, even though there are plenty of chinook salmon running upstream, they don't seem to be in the mood to bite, so the fishing has been slow. It's not unusual; these are trophy fish and you don't catch them every day. There's a major rainstorm on the way as well, we may not get back on the river for a few days.