The winter season of kayak fishing for largemouth bass on the Colorado River is in the history books with a couple last days of good fishing and a last look at the always present desert wind.
It's been a good winter fishing season. Spending more time on the water you get more experience and I think that means a better chance of success. We did a lot of fishing at night. It can be extremely windy in the desert, sometimes the only calm wind is at night so if you want to go kayak fishing. Experiencing night turn into day on an unobtrusive vehicle like a kayak is pretty cool. The fishing was also good at night most of the time.
In the early desert mornings, the wildlife around the river comes alive. Usually, the fishing comes alive as well.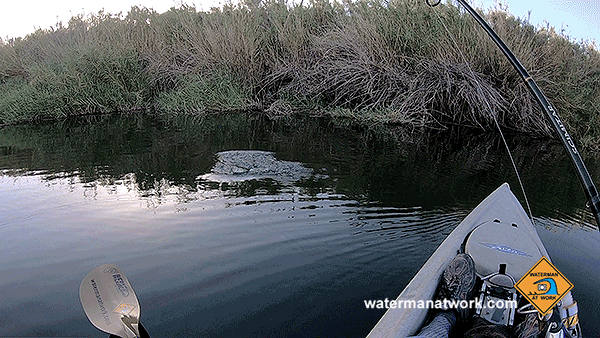 The water in parts of the Colorado River watershed is very shallow. Because the water is released from an upstream dam, it is unnaturally clear. Casting into the early morning sun as close to the reeds and bushes as possible produced some pretty good results.
With this kind of kayak, you are close to the fishing action.
We caught a lot of nice largemouth bass this season. All the fish we caught were released to fight another day. I've gotten pretty good at bass surgery and don't believe I killed a single fish. There was a lot of kayak fishing action, I think we have some good video.
On what turned out to be the last kayak fishing trip of the season, on the paddle back to the launch beach, I made "one last cast" into the riverside bushes, not more than 50 yards from where my truck was parked. I got a bite and after a great battle, landed this monster Colorado River largemouth bass.
The next morning, the desert wind increased and our kayak fishing season on the lower Colorado River was over. Time to head back to the PacNW and see what's going on there. We'll get right to work on the video for this season's excellent kayak fishing for largemouth bass on the Colorado River. More kayak fishing action coming up as well so check back soon.