A long time user of Dawia fishing reels, my first experience with Dawia customer service was very disappointing.
About nine months after purchasing the Dawia REVROS 2500H spinning reel, the anti-reverse stopped working. I called Dawia because the reel was still under warranty, they told me 60-90 days to repair. How about the part that failed, the roller clutch? I'll buy one of those. "Sorry, out of stock, call back at the end of the month"(three weeks away).
Three weeks later; I call Dawia and order the part. Credit card charged, ten to fourteen days. About fourteen days later, no part, so I call Dawia. "Oh yeah, just sending it out, it will be ten to fourteen days". Like most other consumers, it's getting pretty easy to know when you're getting screwed, but what can you do? My respect for Dawia drops considerably at this point.
About two weeks later, two months from initial phone call, I call Dawia about the part and sure enough, they are just getting ready to put it in the mail and it will be "ten to fourteen days". There's not much more a business can do to show the level of respect for their customers than by lying to them whenever the need arises. Another credit card dispute and disappointing experience as a fisherman.
Why is this important to the average fisherman? The Dawia REVROS 2500H cost about $60 when I bought it and it lasted nine months. The reels in the photo below(the reel on the left is comparable to the REVROS 2500H) I bought on eBay for about $15. They lasted over two years under the same fishing conditions as the Dawia that lasted nine months.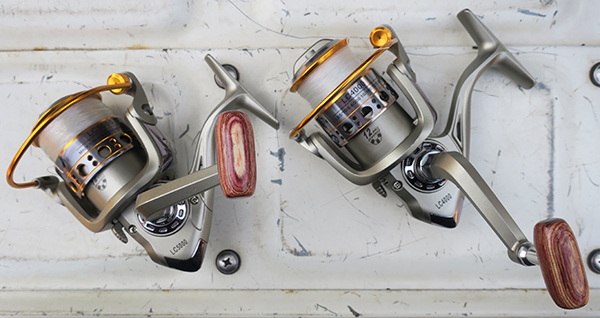 What makes the Dawia worth four times as much as a reel that lasted more than twice as long? The Dawia has a nicer finish and smoother operation due to a couple better bearings, since it is broken and out of service, none of that matters. Dawia's poor customer service is worse than no customer service at all. Is an eBay reel as good as a Dawia? 50-50. Are four eBay reels better than one Dawia for the same price? I don't know if we will start using eBay fishing reels, but we are done with Dawia, that's for sure.