The fishing season is quickly coming to a close and the weather is getting colder and wetter so we are trying to get as many fishing days in as possible before we pack away the fishing gear for the winter. The fishing on the Klickitat River has been very good this year, especially for Chinook and Coho salmon but the salmon season has pretty much come to an end. There are still salmon in the river, you can see them just about everywhere, but they are either spawning, spawned out, or dead. The river banks are full of dead salmon. The only thing really left to fish for are the famous Klickitat steelhead.
The steelhead are much harder to catch than the salmon, that's why they are such coveted trophy fish. A couple big steelhead would be a good season of steelhead fishing for most fishermen. The best way to fish for steelhead is with a drift boat because you can cover miles of river and hit many holes where a trophy fish might be hiding. Fishing from shore is much more difficult. Fly fishing is probably the best way to go for steelhead, but the Klickitat is lined with trees and bushes, there's not a lot of room for back casts in most places. You must be careful when wading because the Klickitat is full of slippery rocks and sudden drop offs. The current can be very strong in places and the water is cold. The water is not as cold as the morning temperatures this time of year; when 44° water is steaming, it's pretty cold.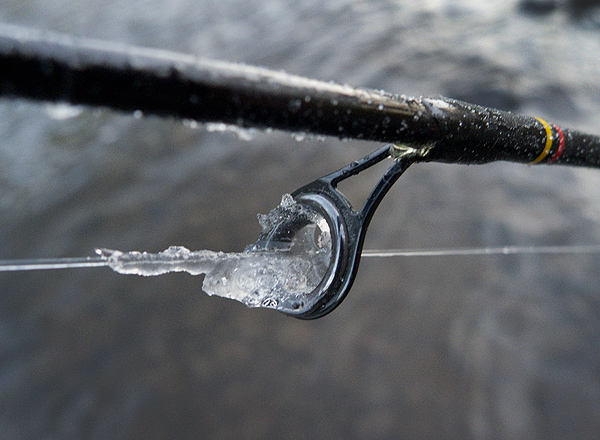 It's tough to fish, especially with a fly fishing setup, when the fishing line freezes in the guides.
We've had rain the past few days so the water level and flow have increased putting a damper on the fishing. We gave it a try today because we are running out of time to fish, but I think we are going to have to wait a day or two for the river to settle back down to manageable levels. It's supposed to be even colder tomorrow than it was today, probably in the low to mid 20′s, that's a little too cold for fishing when they aren't biting.