The weather forecast was for windy and overcast conditions, but as is so often the case here in the Columbia River Gorge, the weather was somewhat different than the forecast. I wasn't planning to go fishing, but when I awoke to calm conditions, I hurriedly packed up the kayak and gear and headed to the river before the wind came up.
It wasn't exactly calm, there were light and variable winds with sudden 15-20mph gusts so you had to be alert to where the wind was blowing you. One of the unique things about the Gorge is that the wind can be blowing from two directions at the same time, just another of the danger factors on a big river like the Columbia. In addition to the wind, they were letting out a lot of water from The Dalles Dam into the Bonneville Pool making for treacherous currents on the main river. High water flow on the Columbia means caution in a small watercraft like a kayak.
Started out fishing on one of the river's side bays without much luck so I braved the currents of the main channel to try out there without much success either. I didn't have much luck until later in the afternoon when I thought I had a snag but it turned out to be a white sturgeon. It was somewhat of a struggle to get the fish to the kayak on a 10 lb. test ultralight rig. Got it to the kayak, removed the hook and back into the river he goes.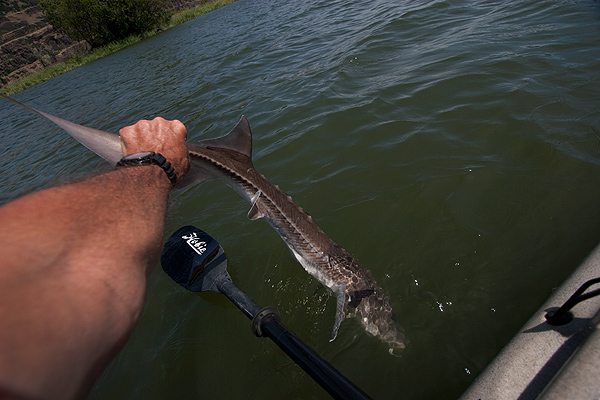 The changing water level causes the fish to move around more than normal, so you have to find the fish. Also, a cold front moved through the area the night before, combined with the colder water being released from The Dalles Dam, the river water temperature dropped by a few degrees. When that happens, smallmouth bass have a tendency to move away from spawning nests and just move around more in general as well as slowing down the fish's feeding habits. Even with hazy sun, by late afternoon, the water in the shallower areas had begun to warm up and the bass started biting. Got a couple more nice smallmouths as well as some smaller bass. The day started out slow, but literally heated up in the afternoon.
The Bonneville Pool appears to be near maximum capacity, so the next couple weeks should be pretty good for smallies as long as the wind and weather cooperate. Once the water starts being used for irrigation, which will probably be earlier this year due to the unusually warm weather, the water will slowly be drained away.