We finally got a few days of nice bike riding weather here in the Pacific Northwest. It's been cold, snowy, rainy and foggy for the past few weeks, not very inviting for outdoor activities. There have actually been three nice days in a row and it looks like there may be a few more coming up. After being stuck inside for weeks, it's time to get outside!
Usually, due in less physical activity and more physical beer drinking, one has a tendency to put on a few pounds over the winter. We've been trying hard to keep it to a minimum because the older you get, the harder it is to lose the excess poundage. A little overeating around the holidays is hard to avoid, but cutting back on the beer has saved a few pounds for sure. I like to drink beer as much as the next guy, but you have to moderate. Easy to pack the weight on, hard to get rid of.
Anyway, the weather is nice so it's out on the road for some bike riding. The trails are still far too muddy for mountain biking and many of the forest service roads are still covered with snow, but riding around the valley is good. Kind of out of shape, so big mileage and elevation gain are not necessary. Getting out of the house is.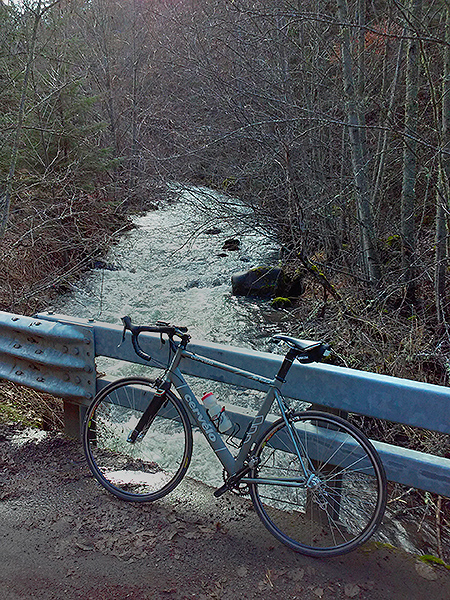 The photo is kind of crappy because it's from a $100 cell phone.
Hoping for a few more days of decent weather, winter is not over quite yet, but there's hope that we've turned the corner towards spring. We are working on some kayak fishing videos for the watermanatwork.com website, so stay tuned for those.