The salmon fishing on the Columbia River has been slowing down in the past week or so here in the Columbia River Gorge so we have to head upriver and follow the fish. The salmon run is ending so you either have to head east on the Columbia River or fish the rivers that empty into the Columbia. The tributaries that feed the Columbia River are mostly water from melted snow in the local mountains, I think this keeps the salmon more active than they would be in the Columbia River, which is still pretty warm. The weather is not very good this time of year, the rain and wind have a big impact on fishing conditions, not to mention the fact that getting out on the water before daybreak on a cold, windy and rainy morning is not all that much fun. It's getting to the point where the next fishing trip may be the last kayak fishing trip of the season, so we try to brave the elements and get out there as long as the fish are biting.
We headed to one of the local rivers that empties into the Columbia that is one of our favorite salmon fishing spots. We've always done pretty well here and when we went out on an overcast and drizzly fall morning, our luck there continued. The river was not in ideal shape due to recent rain, but there were fish to be had, both chinook and coho salmon were biting. The chinook were taken by fishing salmon eggs and trolling the trusty wiggle warts and the coho were pretty much hitting the trolled plugs. Many of the chinook were darker fish but the coho were mostly silvery and fresh, so we spent most of the day trolling wiggle warts. I did pretty well, had a number of hits, some didn't take and I lost a couple by fooling around with the video camera. I still managed to hook into a couple nice coho salmon that put up a great fight.
The coho salmon were still silvery and strong. The meat was bright orange and tasted great. The day started out cloudy and drizzling, but it cleared up in the afternoon and turned out to be a nice day so it was a good day on the river all around.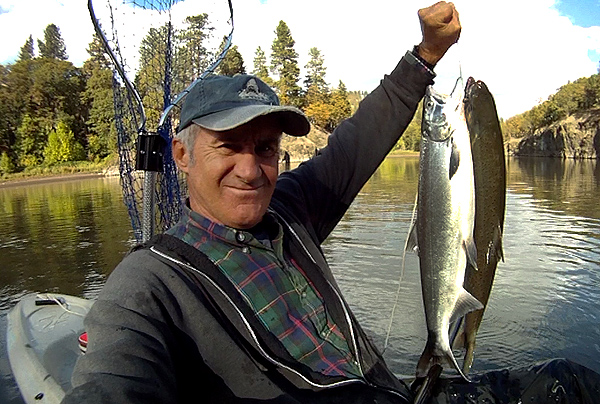 The successful fishing trip gives us hope that there are still a few kayak fishing trips left in the salmon fishing season. The big factor now is if the weather will cooperate. It's raining hard today and supposed to be windy and rainy tomorrow, but we will try again as soon as the conditions permit.