Today was easily the warmest day of the year, with a record breaking high temperature of 82°F. Don came over with Mandy The Trail Hound and we headed up the hill for a little mountain biking. We got an early start to beat the weekend crowd, which was a good thing because it did get hot later in the day, but we only saw a few people out on the trail, pretty typical for around here this time of year.
Don got his first look at the new sections of trail, I think Mandy liked them as well.
I was hot and Mandy did a lot of running to keep up with us and she did what everybody should do on a hot day; drink a lot of water.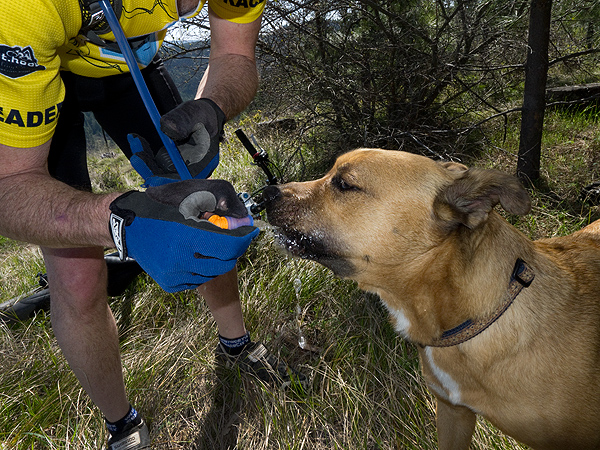 Hardly a cloud in the sky, terrific riding with great views of Mt. Adams.
We rode a little over nine miles, with all of Mandy's side trips into the woods, she probably did closer to ten.
We hadn't ridden this part of the trail so far this year, there was another new section of trail as well as some new trail hazards courtesy of that major ice storm this past winter.
On the way home, there were some fantastic views of the Hood River Valley fruit orchards in full bloom. Not many places you can see something like this.
The fruit trees are in full bloom, by next weekend most of these flowers will be gone.
Another hot day tomorrow, then maybe some rain later in the week.