The wind died down for about a day and a half so we hit the Columbia River to do a little kayak fishing for smallmouth bass. It's been a few weeks of wind cancelled fishing so we were very happy to be out on the water and be fishing on a beautiful summer day. The forecast was for light winds in the early morning, picking up a little in the afternoon to no more than five to seven miles per hour. After nearly a month of 15-20 mph wind, it was worth a shot. The early mornings were perfect, nearly dead calm and 70°F.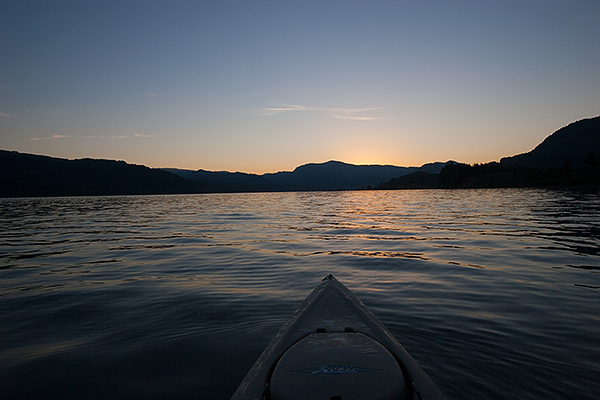 The early morning fishing was very good. Casting or trolling, there were plenty of good sized, hard fighting smallmouth bass ready to bite.
This was a new fishing spot for us. We'd been here before but never really looked for places to launch kayaks. The Columbia River is a very big river, but in most places, actually getting to the river is tough, if not impossible. Launching a kayak is even harder. You can't get everywhere in a kayak but you can go to a lot of places boats can't go. The Columbia River has limitless opportunities to hunt for smallmouth bass, as long as you can get to the river.
As you can tell by the photo above, the launches and landings here are a bit rugged, but there are rewards for getting off the beaten path. We took a break from fishing to pick some of the abundant wild blackberries growing along the banks of the Columbia River. The blackberries that grow along the river are really fat and juicy because they have water all the time. These berries are so good it's hard to stop eating them, but I recommend you stick to a quarter pound or less per serving.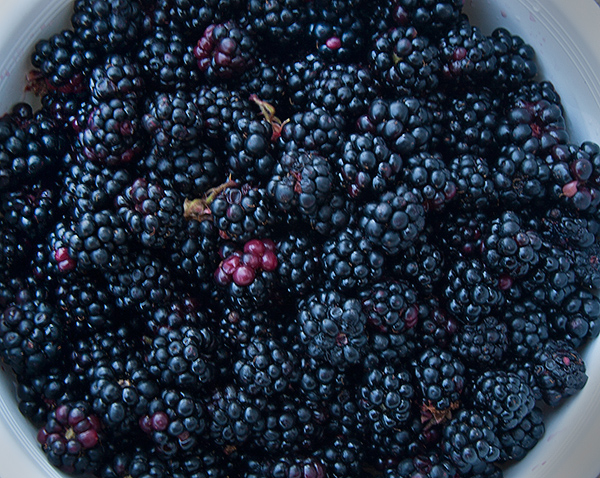 The first day we went fishing was perfect; pretty much calm winds all day. The fishing tapered off in the afternoon, so we loaded up the kayaks, endured an hour and a half traffic jam on the interstate and got ready to go again the next day. Today started out nice, but contrary to the weather forecast, the wind picked up quickly mid morning and we high tailed it off the river after a great, but short, morning of fishing. By the time we landed, the sailboarders were out. We packed up and headed on out. As I mentioned earlier, some of these places are pretty far off the beaten path. Below is a photo of a road that leads off the beaten path.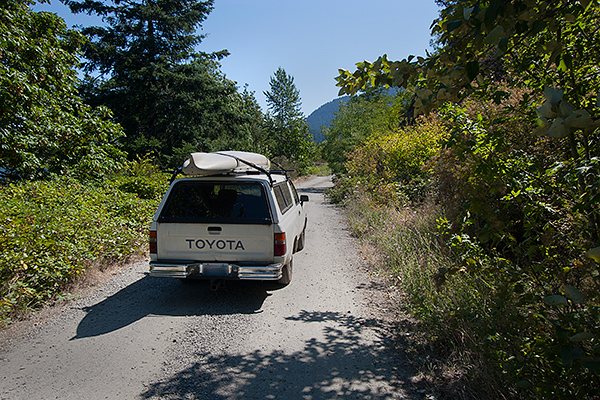 The wind is supposed to be picking up in the next few days so more kayak fishing is questionable. We are hoping for a couple more good smallmouth bass fishing sessions before the salmon fishing begins in a couple weeks or so. There are already people fishing for salmon and steelhead, I don't know if they do that all summer or hope to be the first with a fall run fish. Anyway, we will be getting the salmon/steelhead gear ready to go. We're excited for salmon fishing season but a little apprehensive because it is getting so crowded. See how it goes, I reckon. We'll probably have a summer smallmouth bass fishing video in a few weeks. The bass fishing has been really good but the fishing has been limited because of the wind.
Stay tuned because summer here ends with a bang.