After a disappointing end to a meager fishing season in the Pacific Northwest, we were hoping a change of scenery would change our luck. We needed a big change of luck, so we went for a big change of scenery; from the rainy and cold Columbia River Gorge to the hot and dry Arizona desert.
We started off at a spot off the beaten path where we have had some success before. Nothing huge, but there are some big bass in this relatively small part of the river. This spot does not get a large amount of fishermen because it is on a long, dusty and rough dirt road sprinkled with rocks. It seems like washboard from beginning to end.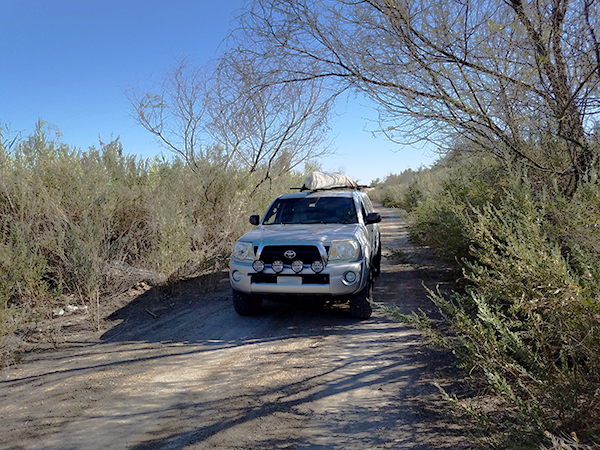 Kayaks are a great way to fish here, some guys use float tubes. Along with the washboard road, the boat launch itself is pretty rough as well. Not friendly to boat trailers at all.
Even in October, it is still pretty hot in the Arizona desert, with daytime temperatures near 90°F. As long as the mosquitoes aren't too bad, the early mornings and evenings are the best time to fish. By noon or so, it's usually pretty hot. The fishing seems to slow down during the heat of the day. You can still catch fish, it just seems a bit slower than mornings or evenings.
This area is not very large and fairly shallow. Like almost every other waterway we've been to lately, there is a lot of aquatic vegetation, especially in shallow water less than 10-15 feet deep. If a lure or hook touches anything, it's got seaweed on it so that eliminates the lead head plastics we use a lot of the time. We switched over to shallow diving crankbaits and floating surface lures and started to catch fish.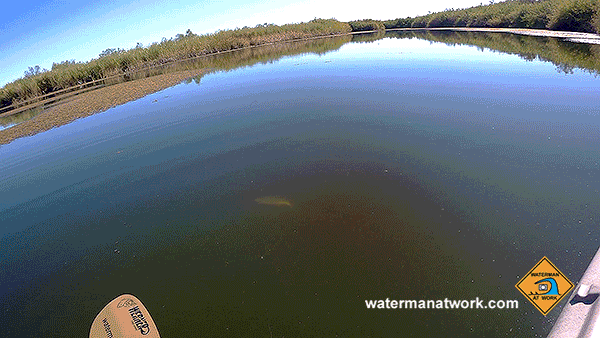 Most of the bass were smaller, a couple nice ones and this one which I think is the biggest bass I've ever caught here so I'm encouraged to go back soon and try for something bigger.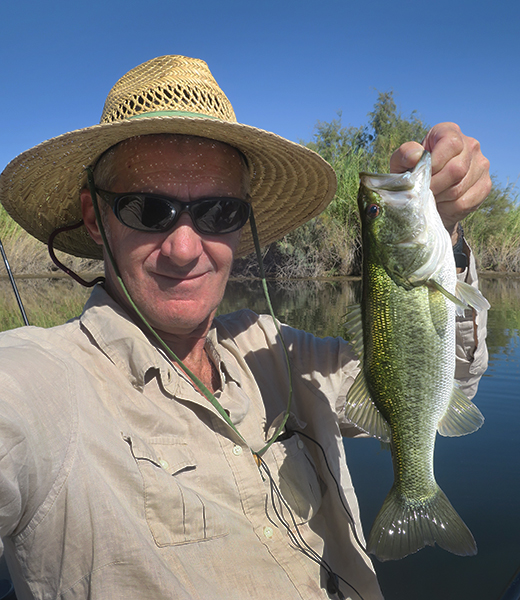 The first kayak fishing trip here in the southwest was a success. We were anxious to get back out there, but once again, the wind came up and kept us off the water for a few days. Although the forecast was for continued wind, we had a hunch there might be a break, so we rolled the dice and headed out into the desert.
At sunrise, the wind was mostly calm, but by 10AM, it was already blowing 10mph or better, so it was a pretty short fishing day with only one small bass caught. We made camp hoping the wind would either die down in the evening or the next day.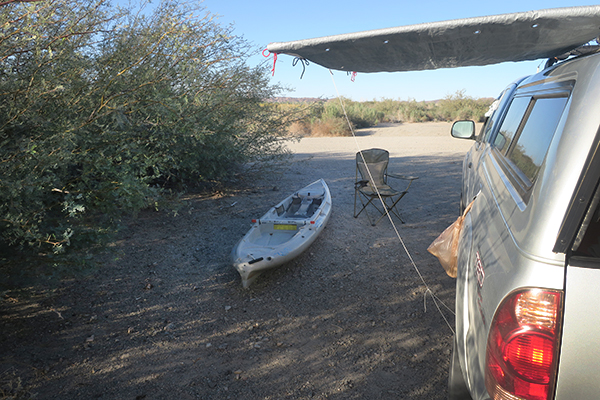 The wind died during the cloudless desert night and it was calm and warm the following morning. We rigged up and headed out into the dark pre-dawn waters. We started fishing with the grubs we've had so much success here before but got nothing but snagged on seaweed. The only lures we could use without getting snagged in seaweed were shallow diving crankbaits that float and dive a couple feet when you crank them. I had not had much success with crankbaits here, but I tied on on and had the first bass of the day in the kayak before sunrise.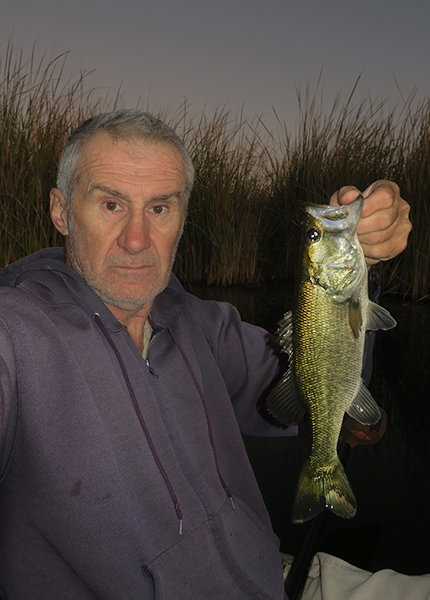 Just a short time later, using the same crankbait, I had another largemouth bass in the boat, this one was a little bigger.
Some fish were hitting the crankbait as it floated on the surface and I would give it a couple twitches before reeling. Some bass hit it as I was reeling in the lure. This 3/8 oz. crankbait caught all the bass on this day. I'd never had much luck with it before, but it's in regular rotation now. I thought this lure might be too big, but everything from six ouncers to six pounders will hit it. I even caught a couple bluegill who attacked this crankbait!
With this size lure, I can use my bait casting rig. I use spinning setups most of the time because we are throwing 1/8 ounce lures. I prefer to use a casting setup whenever possible, even if it is harder to cast from the sitting position of a kayak. This shallow diving lure, with the short front blade, would dive to 2-3′, which was above the lake bottom which was covered with thick seaweed.
Casting the crankbait close to the reeds, pause for a few seconds, then jiggle the floating crankbait a few times, then reel it in at a speed that keeps the crankbait above the seaweed. Ideal conditions for casting this kind of crankbait or floating lure. An exciting way of fishing for largemouth bass.
The magic crankbait was on fire because I caught a few largemouth bass in pretty exciting fashion.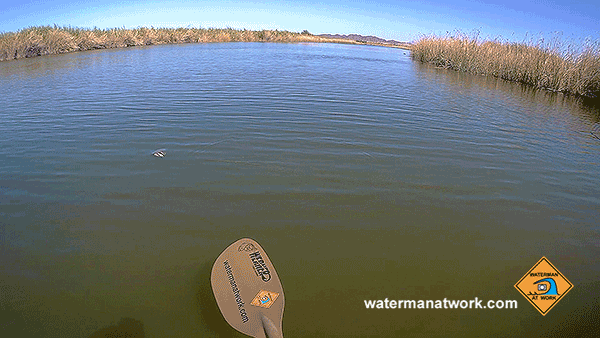 Highlight of the day was this nice largemouth bass. It's one of the bigger ones that I've caught here. This fish has a giant head. In a few months, it's body may catch up and turn into a really big largemouth bass.
The wind came up in the afternoon, but we were so tired from paddling, casting and hauling in the bass, it was hard getting the gear the short distance to the camp. The wind has come up again, take care of business and be ready to go again. Two great kayak fishing trips, we are anxious to get out there as soon as possible. Keep checking back.