It was time for an all out effort kayak fishing for largemouth bass on the Colorado River. We were down to the last few days of the winter fishing season. The desert wind has really destroyed this year's fishing and we only had a few days left before we headed back to the PacNW. The weather forecast called for a few calm mornings so we had to go.
Paddling up the Colorado River, which was about as full as it has been in years, the stars were shining bright and the wind was calm. I saw a shooting star, which I think means we might have some luck. We arrived at the fishing spot just before sunrise on what would be a sweltering 104° day in the desert.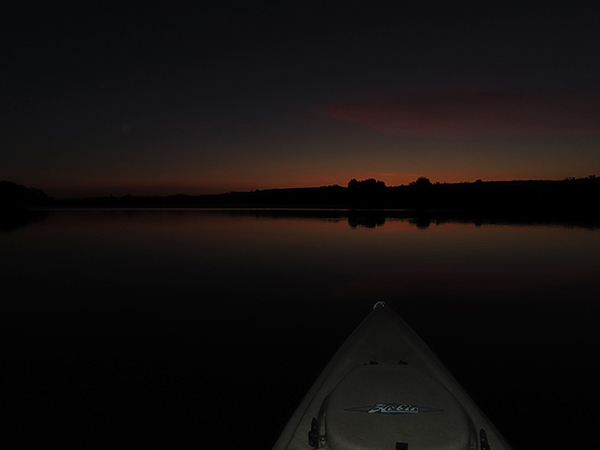 The largemouth bass are not usually active at night on this part of the river, but when the sun comes up over the low desert hills, the action heats up quickly.
Once the sun came up, there was nearly non-stop kayak fishing action. It seemed like it was going to be "one of those days", we were stoked.
Most of the largemouth bass we caught were good sized fish and a few really nice fish were landed.
I caught a couple bass that were in the running for the biggest fish of the season. I caught some nice fish earlier in the season, but that was months ago.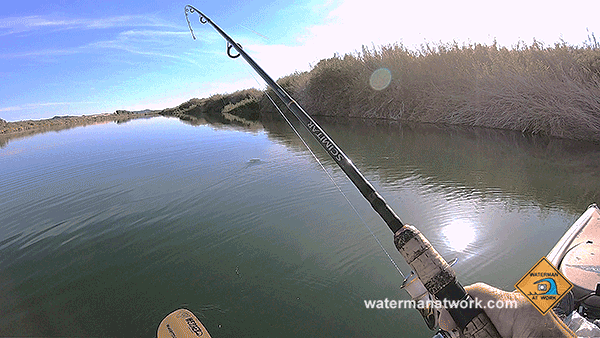 Today was Colorado River largemouth bass fishing at it's best.
There was only one thing that could stop this epic day of kayak fishing and, of course, that was the wind. About 0930, the south wind, which would be a headwind, started to pick up. In an hour, it would be blowing ten miles per hour so we cut the fishing short and started paddling back to the launch.
On the way back, I could only pass up so many good looking fishing spots, so I stopped for one last cast in the face on the increasing wind and got one more nice largemouth bass to end the day.
Back at the launch beach, tired but happy after a great day of kayak fishing on the Colorado River. In what has been a terrible fishing season on this part of the river, this was easily the best day of the season. The exceedingly rare day where nearly everything seemed to go our way.
We packed up the kayaks and gear in the 100° heat and headed back to the campsite. I put all the gear out to dry, when the temperature is 102°, it does not take long.
I repaired the fishing gear and replaced a lot of plastic swimbaits. Exhausted and hot, we tried to get to sleep because tomorrow would be the last day of kayak fishing and we would be up early.