It was a great weekend in the PacNW outdoors but I haven't been able to update the blog because I have been working like a pack mule. I'd like to get photos up the same day, but hey, this is Snowden, not La Jolla. We don't have internet service or cell phone coverage; only two horses and a cow.
Anyhoo, some great trout fishing up in the local hills. I jammed up to the local trout pond right after work on Friday and launched the kayak for some afternoon fishing. It was a bit windy, not unusual here in the Columbia Gorge, the sun was out but it wasn't boardshorts weather just yet. I caught about five trout, all by trolling the trusty Buoyant spoon. I thought I would have better luck, but five fish in a couple hours isn't too bad. I didn't see anyone else catch anything, except for one lady who managed to land a 10-12 pound steelhead on trout gear. Not too shabby; all my fish put together probably weighed a couple pounds.
After a few hours of fishing, I checked into the CamperShell Motel parked on the side of the lake. Clear skies mean cold nights around here; it was a beautiful sunset in the hills, but pretty cold. After a few Mirror Ponds, I hit the sack.
Saturday morning was dead glass and dead cold; about 35 degrees. I rigged up the yak and headed out across the lake. It was cold, but the fishing was great. I caught about a half dozen good sized rainbows on the troll across the lake.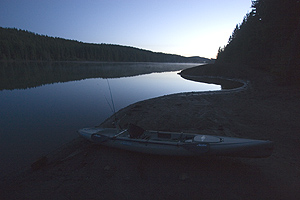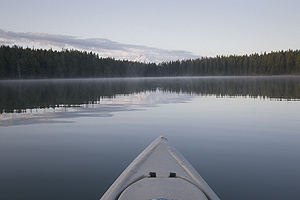 I hung out at the end of the lake that gave up the big steelhead the day before, but as the sun came up, the bite tapered off. I was ready to call it a day and headed back to the other end of the lake. Right across the lake from my campsite I saw some fish coming to the surface so I tossed the spoon out. Right place, right time; I got a fish just about every cast for the next hour, winding up with about twenty fish for the day and out of the water by 11:00 AM. Stoked.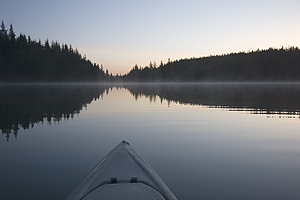 I'll try to get full size photos on the website as soon as I can.