The challenging kayak fishing conditions on the Colorado River continue in what has been a pretty tough year for largemouth bass fishing around here. Hardly a day or two of light wind all winter long, fluctuating water levels and invasive aquatic vegetation have provided for very few epic kayak fishing moments.
We have caught a few fish, but no real big ones and, some days, a couple of fish is all you get. This is big game fishing and you might not catch a lot of fish, but one or two big largemouth bass make up for a lot of smaller ones.
When the fishing is tough, you have to go to extremes to try and get some action. The largemouth bass are hiding deep in the riverside reeds and it's tough to get in there and get a fish out. The trusty fake frog was getting some action where there was barely a spot of water for the lure to land.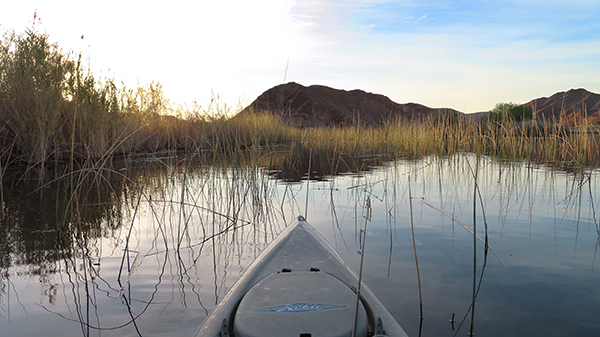 After a sparse fishing season, we're down to the last few weeks of fishing. The way the wind has been, that may wind up only being a couple days.
We usually do pretty well as the temperature heats up so check back and see what we can do with the end of the winter kayak fishing season.