A great weekend for springtime sports action here in the Pacific NW. One last winter snow day and spring arrives all in the same day.
Saturday was the last big winter day at Mt. Hood Meadows for snowboarding; it will be spring conditions from here on in. The freeze-thaw spring conditions were in full effect. We were hoping for a little more fresh snow from the two feet or so that had fallen over the past week, but the warm days and cold nights produced the first day of ice in the morning and slush in the afternoon. A few decent runs down the 2 1/2 Black Diamond Pluto Bowl and one final run through the Private Reserve was the end of a tremendous spring season where knee deep, fluffy powder was a regular feature of what had to be one of the best months of March of all time.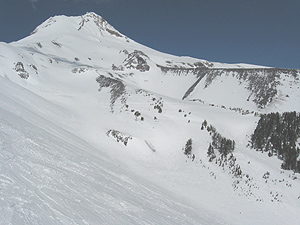 We left the mountain and headed to The Dalles for the Cherry Blossom Classic Criterium. Plenty of great, fast racing through the streets of downtown The Dalles with long straightaways and ninety degree corners. A great bike racing atmosphere that we have come to expect from what is quickly becoming a stage racing hotbed here in the United States. The racing went on until the sun went down and the moon came up.
The next day was a challenging road race through one of the local road rider's favorite routes; the winding roads between Mosier and The Dalles. The weather was great and the scenery was fantastic, but the undulating hills of the race course took all the rider's concentration; the racers were strung out all over the challenging course.
The Cherry Blossom Classic was a great way to kick off the new racing season; we're looking forward to the upcoming Mt. Hood Classic for more great American stage racing.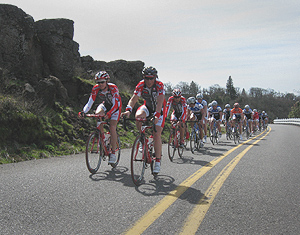 I'll have photos from the Cherry Blossom Classic on the website as soon as I can.
With traffic control on the Cherry Blossom Classic road race route, there was very little vehicle traffic which gave weekend bike riders a chance to ride on the same roads with the racers. Getting passed on the uphills by the peletons of racers gives you a pretty good idea how fast these racers are and inspiration to get off the couch and on your bike. Sunday may have been the best weekend ride for a road biker in the United States; glad to be out there riding.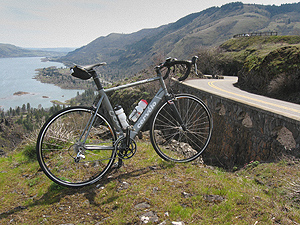 Be back with more soon.