After a week of non-stop double digit desert wind, we returned to the Colorado River to find the water level a few feet lower than it was the week before. With water from the bottom of the upstream reservoir flushing through the lower Colorado River system at a rapid clip, it was no surprise that the largemouth bass fishing was slow.
Slow fishing during the day and wind coming up in the late morning/early afternoon, we started to fish at night, actually early morning, to see if we might have better luck. The fishing is a bit more challenging at night, but the great night sky show of stars, planets and meteors more than make up for it. If you are a fan of astronomy, this has been a banner season so far.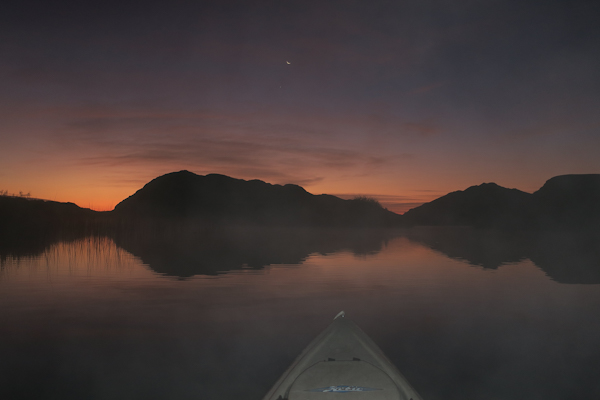 For the past few days, the fishing at night has been pretty good. We weren't catching a lot of largemouth bass, but the fish we were catching were big. I caught this nice largemouth bass just as the eastern sky was starting to light up from the rising desert sun.
The next night we paddled out at a different spot where we thought we might have a little more river water to work with. With the sliver of moon rising just before sunrise, it was pretty dark fishing, although there were a lot of shooting stars for entertainment. Then, out of the blackness, a big hit, multiple jumps all in the dark and managed to land this big largemouth bass.
Usually by the time the morning sun appeared over the eastern desert hills, we had at least one nice largemouth on the tab. As the sun rose higher in the sky, we picked off a few more fish, but the best action was at night.
Once again we are on wind delay for a few days. There is fishing and kayaking gear that needs some work and then we are back out there as soon as the conditions permit.
We here at watermanatwork.com hope everyone is safe and healthy. Take care of yourself, have consideration for others, wear a mask and hopefully we will all be fishing soon.