We are going to spending some time on the road, so we here at watermanatwork.com are in the market for a laptop computer that can handle the video and photo editing tasks as well as do a little bit of video gaming on the side. As always, price is a factor. If we had unlimited funds, the decision would be a lot easier, but we need to get the most bang for our bucks. As always, we pay for all of our gear just like you do, so our reviews and articles are not biased in any way. We build all of our own workstations, servers and desktop computers, but laptops are generally pretty limited when it comes to upgrades and customization, so you pretty much have to get the main components you want, like the CPU(processor) and GPU(graphics processor), out of the box. Some components can be upgraded, we'll cover that as we go along.
We have a pretty good idea of what we would like to spend and the components we can get at that price point. Like most computer purchases, you'll find computers with mostly the same specifications from different manufacturers. That's where things like warranty, customer service and company reputation come into the picture. For this computer, we want to stay in the $1200USD range, give or take a few dollars. For sure we want an 7th Generation Intel Core i7-7700HQ Quad Core CPU. This powerful 2.8Ghz(3.8Ghz Turbo) processor will be able to handle all of our editing and gaming needs. It also has onboard graphics, but for our graphics, and especially gaming requirements, we want a dedicated graphics; a graphics processor separate from the main CPU. This will give us much better graphic quality. The best price/performance GPU for our needs is the NVIDIA GeForce GTX 1050Ti GPU with 4GB GDDR5 Video Memory. To go with the dedicated GPU, especially for our editing jobs, we want an IPS LCD display. There are cheaper LCD panels, but this is one place we don't want to skimp. Things we would need are 16G of RAM minimum, a PCIe SSD for our operating system and at least one SSD or hard drive for storage. These components are usually upgradeable, but if we can get what we want from the manufacturer, that will save us money down the road. We'll get into more details as we go along.
A basic decision is should we go with a traditional mobile workstation or a recent newer line of consumer gaming computers? Mobile workstations are nice; powerful, durable and built for heavy duty work. They also come with a heavy duty price tag, probably close to double what we would like to spend. We are looking at a relatively new genre of laptop "gaming" computers. This type of computer has plenty of power necessary to run demanding computer games which means they have all the power needed for the 1920×1080 video editing and photo work we have. The downside of gaming computers is that they are not as durable as mobile workstations and the cooling may not be as good. Since we will be spending a lot of time traveling, we won't be able to easily ship the computer back and forth for repairs, so reliability is one of the most important purchasing decisions. As with most computer purchases, it's a price/performance/reliability trade off that usually causes a potential computer buyer to spend hours doing research trying to figure out which computer or component to purchase.
We've been looking around for awhile and have a couple laptops leading the pack for our hard earned money. The Dell Inspirion 15 7000 Gaming(7567) and the Sager NP6852 are the computers that seem to have everything we are looking for. Dell is one of the most well known computer brands while Sager is a laptop specialist popular with enthusiasts.
The Dell Inspirion 7567 is a solid computer. Positives would be Dell's generally good record for quality products and solid warranties. The battery life is very good, perhaps the best, in this computer class, that's a big plus. Negatives would be Dell's proprietary software and partitioning scheme that can make upgrades and software configuration difficult, if not impossible. We have a good deal of experience with Dell computers and while Dell Business Customer Service is very good, for everyone else, it is hit and miss. Since we will be in there with "everyone else", we have to count Dell customer service as mostly negative. For the price and what you get, the Dell Inspirion 15 7000 is still a leading contender, as long as nothing goes wrong.
The Sager NP6852 is actually a Clevo N850HK1. Clevo is a Taiwanese OEM/ODM laptop computer manufacturer, Sager is one of a number of resellers for their laptop computers. The upside of the Sager NP6852 is that is is more user upgradeable/serviceable and for a few bucks more comes a 250G Samsung 960 EVO M.2 PCIe NVMe SSD, where the Dell Inspirion comes with a 128GB SSD and 1TB 5400RPM hard drive. The absence of bloatware and proprietary software is a plus. The downside of the Sager NP6852 is the question of reliabilty and customer service. Although reviews on the internet seem mostly positive, we have personally never had any experience with Sager. This is a big negative for us. Sager may be the best company on the face of the earth, we just don't know anything about them.
We've sent emails to both Dell and Sager asking a few questions about their computer's components and configurations. We'll see what they have to say and continue with our research. We will also be checking out laptops with basically the same specifications like the Lenovo Legion Y520 and laptops from Asus and MSI. We'll be updating this blog as we get closer to making a final decision.
7-20-17 Update We've been looking at a lot of laptop computers and finally the time spent researching has paid off. We liked the Dell Inspiron 7567 but could not get any information about the computer's components. Buying a $1200 computer without knowing the brand and model of the PCIe SSD, hard drive and especially, the display panel is ridiculous. I could not get a straight answer from anybody at Dell despite repeated attempts. Emails to Dell sales department went unanswered. Throw in Dell bloatware and proprietary software to compliment the poor customer service and that's all she wrote.
Despite the fact I had never heard of Sager until we started looking for this laptop, they seemed like they were willing to provide the customer service we would expect. We really liked the Sager NP6852/Clevo N850HK1, but Sager informed me the computer used an LG LP156WF6-SPK3 display panel, which is not a very good IPS panel. We were hoping we could find the Clevo N850HK1 computer from another vendor with a better IPS display panel and we came across Eluktronics.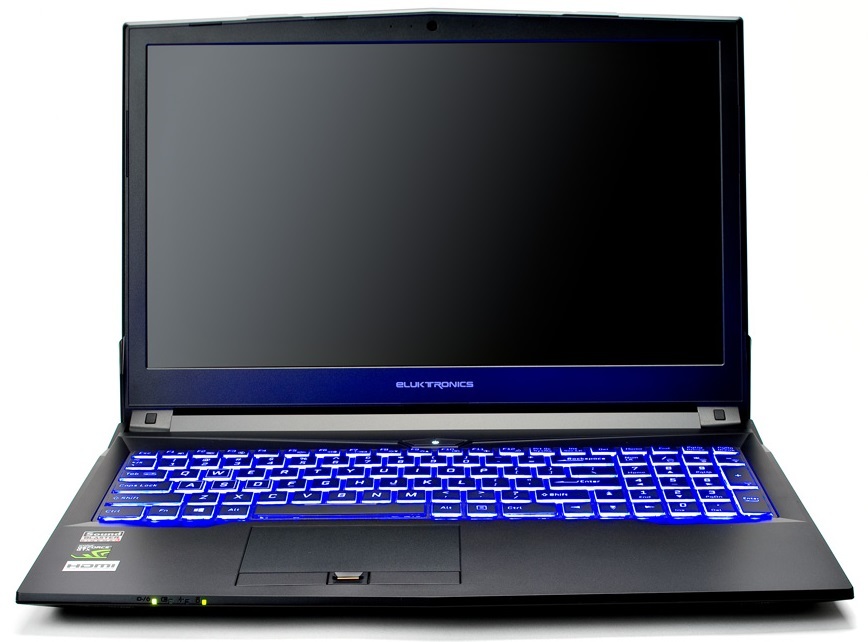 Eluktronics sells Clevo laptops, but while the chassis, motherboard and other core components are the same, different vendors have different components like display panels, memory, solid state drives hard drives and other components. Eluktronics sells the Clevo N850HK1 as the Eluktro Pro N850 Series N850HK1. It has all the stuff we want; Intel i7-7700HQ Quad Core CPU, GeForce GTX 1050 Ti, 16G DDR4 2400MHz RAM and a 256G M.2 PCIe NVMe Flash SSD. What sold us on this version of the Clevo N850HK1 is that Eluktronics specs their version with Crucial memory, their "house brand" 256GB Eluktro Pro-X Performance M.2 PCIe NVMe Flash SSD, which is a Samsung PM961 Polaris M.2-2280 PCI-e 3.0 x 4 NVMe Single-Sided Solid State Drive and a huge plus is an LG LP156WF6-SPB1 display panel, which is significantly better than the LG LP156WF6-SPK3. Like Sager, I had never heard of Eluktronics until a few days ago. When I contacted them for information, they responded quickly with all the information I asked for. I asked them to swap a hard drive that we really didn't need for an upgrade from Windows 10 Home to Windows 10 Pro, they said it would be no problem. Free shipping is also another big plus. Along with a slew of great reviews about Eluktronics, I feel pretty good about purchasing a laptop from them.
The reviews and observations of the Eluktronics N850HK1 continue HERE