As the hot weather continues in the PacNW, it gets drier and drier and the risk for wildfire is as extreme as it gets. The mountain snowpack is melting at a record rate. Seasonal streams and creeks are already dry and some mountain springs have been reduced to a trickle. This is all with a couple more dry and hot summer months to come. The melting glaciers of Mt. Adams are a proper backdrop for the burned trees from a previous fire.
We go to some of the most remote places in the Cascade Mountains that mountain bikes are allowed. Bicycles are not permitted in the designated wilderness areas. It's a long drive to get here, so we prefer to stay a few days. No fires and no shooting due to fire risk.
It's cool at night and hot during the day. Even in the early morning, the sun and the thin mountain air warm things up quickly. Big difference between the temperature in the direct sun and in the shade of the forest.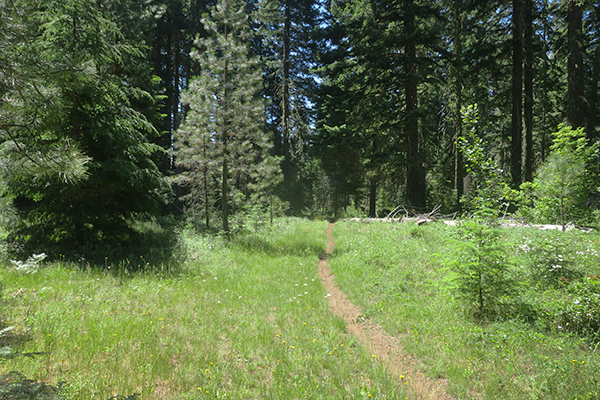 As you ride through the bright sun and dark shadows of the forest, it's quite a light show. Your eyeballs get a workout adjusting to the changing light.
As you get to the more remote areas, things get more rugged. Sometimes it's hard to find the trail and sometimes there is no trail at all.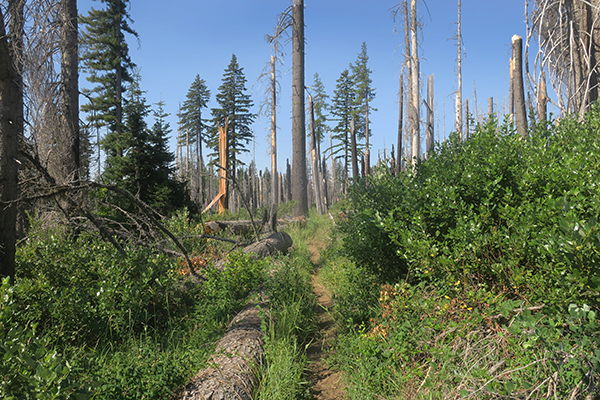 When the trail has been wiped out by blown down trees, flooding or landslides, sometimes you must navigate across this terrain to reach another trail or road. Map, compass or working GPS makes this easier and safer.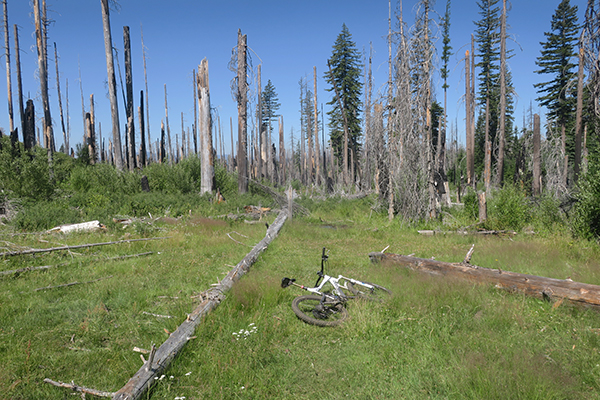 These mountains are a rugged place and a lot of things can happen. You have to be sensible and be prepared for just about anything. This is Mother Nature's way of saying "Road Closed".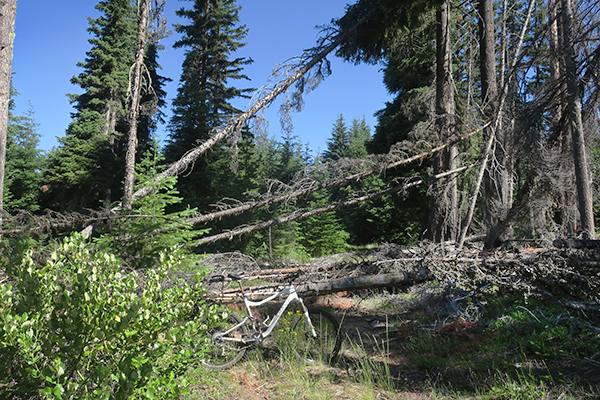 Usually, the plan is to get an early start while it is cool because the ride goes up the mountain as far as you can go, then come back down. It gets steeper as you go higher. Riding on forest service roads going up is easier than riding the trails up. The trails can be soft and have some knee popping steep climbs. Energy must be used wisely because the mountain climbs are long and steep.
At the highest trailhead, it's usually a break for some calories burned up in an hour or more of climbing steep mountain roads. Maybe take a couple photos. Then back on the bikes for the (mostly)downhill ride back to camp.
We'll be back on the trails in a couple days with our fingers crossed for no lightning and no fires. It's always something so stay tuned.