It's been mostly hot and windy, the fishing is terrible so why not head off for some mountain biking in the Cascade Mountains? We've been having a great time lately packing up the bikes and heading into the mountains, getting back into that great feeling of flying down PacNW singletrack.
We checked out the "brand name" trails in the Mt. Hood National Forest, but the trails were dry, dusty and mostly blown out from all the use. Some of the trails in this area have gotten too famous for their own good and the increased rider traffic has taken it's toll. There were a lot of vehicles roaming around so we decided to try our luck across the Columbia River in Washington, which turned out to be a good move. The trails there, not nearly as well known, were in much better condition.
We camped out at a primitive camping area. Most of the camping is pretty primitive in these parts, which we don't mind, but you must bring everything you need with you. This is known as "dry camping" because there are no facilities like running water or toilets. This kind of camping is something we do all the time, so we know what to take and what to leave at home.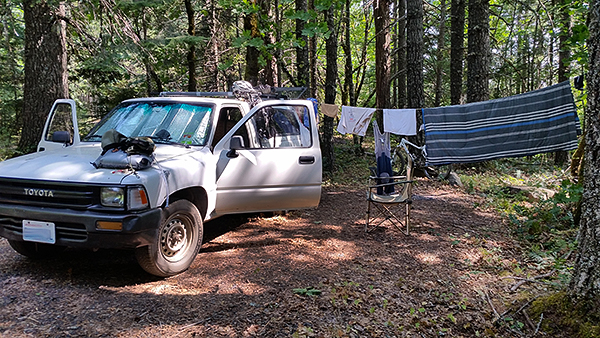 The trails around here are really great. Hardly any other riders, local people mostly, and the trails remain in pretty good shape because the local riders have a tendency to not destroy the trails in their neck of the woods. This is rugged, mountainous country so you have to be prepared for anything. If you are willing to venture off the beaten path, you'll find plenty of places like this.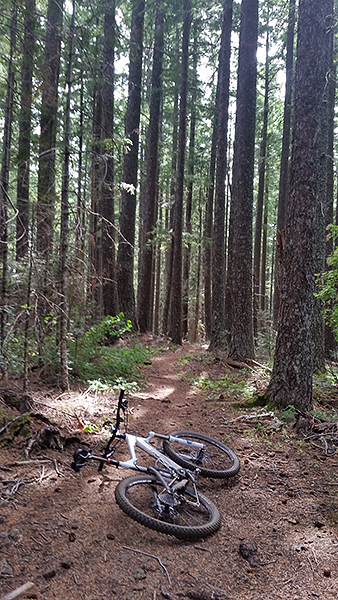 These are the Cascade Mountains and there is plenty of climbing to go along with the great downhills. We are working into mountain biking shape and are starting to be able to climb to the tops of some of the local peaks. The climb up to this peak is a brutally steep haul up rough Forest Service roads. It's a great view from the top and a really killer downhill as payback for the hard climbing required to get up here.
We're in town for a few days to take care of business, then we'll be off on another road trip. We'd like to get some fishing in, but the smallmouth bass fishing is not that good, salmon season will be getting under way in a couple weeks, so we might just wait for the big fish and continue our fun mountain biking adventures.
We've also been scraping by with some pretty crappy camera gear. We've been using Panasonic Lumix cameras for a few years, but they only seem to last about two years. These are not cheap point and shoot cameras, they cost nearly $400. That's a little bit too much to pay for a camera that only lasts a couple years, so we are back to camera brands we've trusted for years and are awaiting the delivery of a new Canon PowerShot G9X, so you can expect the run of somewhat below standard photo quality to come to an end. Stay tuned.