This sailboat, the "Buccaneer", was built by my father, Joseph Barbish, as a young man in 1939. He would go on to become an award winning wood carver and craftsman. He gave it to me when I was a young kid. I sailed it on a local pond a couple times and it's been in the attic or in storage ever since.
The Buccaneer is just over three feet long from the tip of the bowsprit to the stern. The mast is about four feet high from the deck. It has a lead keel and fully operational metal rudder.
There are a few "boat parts" that he probably got from a model shop. The Depression was ending as World War II was starting, he probably didn't have a lot of money.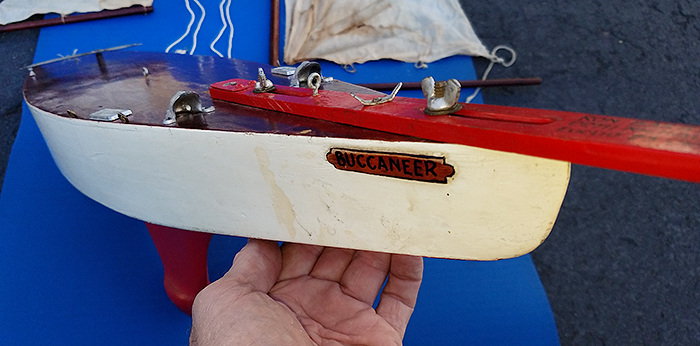 There are a couple small screws with wing nuts but most of the hardware is handmade.
Signed and dated by my father in 1939.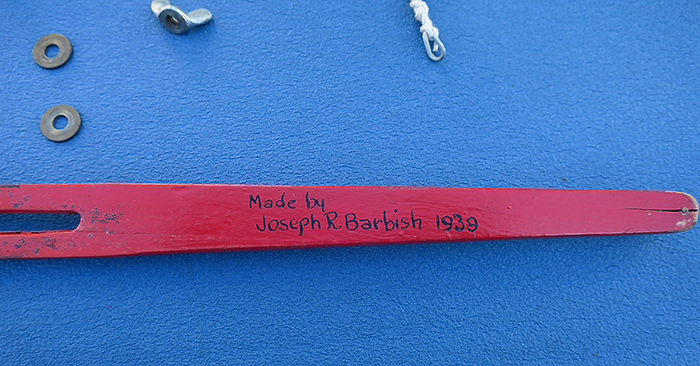 The original sails are in pretty bad shape, so my mother made a new set sometime in the 1970's. The mast was broken somehow, but it would be an easy repair job or you could make a new one by copying the original.
While you could sail this boat, it's probably better suited as a display item. Leave it in original condition or do some kind of restoration, it's up to the buyer.
This is a unique, one of a kind item. I have had several offers to buy the Buccaneer, this time I need to find it a new home port. If you are interested in buying the Buccaneer, email me at watermanatwork@gmail.com and we can talk.